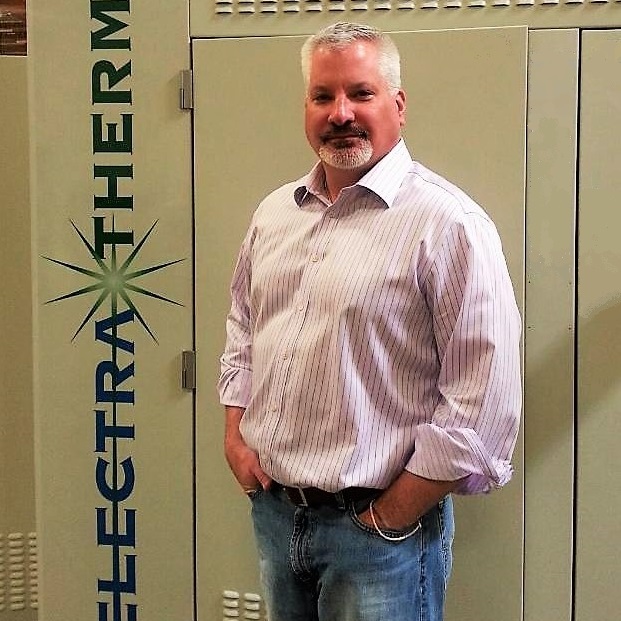 ElectraTherm
John Fox
Managing Director
Flowery Branch, GA
Other Locations: Reno, NV
John's Favorite Fact.
(2018 Sustainable Energy in America Factbook)
Global investment in clean energy hit $333.5 billion in 2017, the second highest after the $360 billion invested in 2015. This represented a 3% increase from 2016 investment levels.
FACTBOOK
From Georgia to Germany, Turning Waste Heat into a Resource
In 2010, John Fox quit his job at United Technologies, packed up his family of four, and left Connecticut. They were headed to Nevada.
After 19 years, John was leaving his stable, successful job to run a fledgling startup company.
"It was a wild (and great) ride," says John. "Without the support of my wife and family, I would never have made the career changing trek across the country."
He laughs when he talks about it, remembering how his wife reacted when she first saw the CEO job description. "She knew it was over when I showed her the skiing available near Reno in the Sierras," he says. The family had great experiences out west and supported John through eight years of constant business travel and another move back east.
John's new role in 2010 was at the helm of ElectraTherm, a manufacturer of waste heat-to-power (WHP) technology. WHP is a highly underutilized technology in the United States but much more common abroad. There are several different approaches and suitable temperature ranges, but WHP essentially turns wasted heat from industrial processes (e.g., at a manufacturing plant) and uses it to generate electricity. Hot water is the fuel.
Specifically, ElectraTherm's Power+ generator produces fuel-free, emission-free power from low temperature waste heat using Organic Rankine Cycle and patented technology. As he took on leadership at the company, John oversaw a complete design turn of the beta product line, launched commercial production, and navigated the business through many challenges and successes.
His efforts paid off. In 2017, BITZER—based in Germany and serving as the world's largest private manufacturer of refrigeration and compression technologies—acquired ElectraTherm. While ElectraTherm remains headquartered in the USA, taking on BITZER as its parent company has opened the door to state-of-the-art manufacturing facilities and expanded export opportunities abroad.
"2017 has been an amazing chapter in our growth: we moved ElectraTherm from Reno, NV to Flowery Branch, GA and built a brand new production facility and enhanced test cell supported by BITZER," says John.
It's hard work selling WHP systems in the United States. There are very limited positive policy signals driving the market as compared to Europe. Customers here are often unfamiliar with the technology, have much more strict payback criteria and are less sustainability focused. A large driver for that is they pay so little for electricity that they don't have much incentive to conserve it. ElectraTherm has been very successful deploying its technology overseas, including in 11 countries.
But John is still encouraged in the U.S. by "the ever-increasing focus on energy efficiency and clean energy, and the growing smart and proven use of readily available waste heat sources to generate additional power on engines/CHPs, boilers, flare elimination, geothermal and more."
"ElectraTherm desires to push what has been done globally with waste heat to power with the same opportunities we see worldwide and push market growth in the U.S. with this reliable, proven heat and power source," he says.
ElectraTherm has been making more inroads into U.S. markets, and has particularly been a leader in innovating new uses of WHP technology. For example, the company is currently working with the Office of Naval Research and U.S. Naval Academy in Annapolis, MD to demonstrate gas turbine waste heat recovery onboard ships. ElectraTherm also worked with a Texas developer, Gulf Coast Green Energy, on a unique demo project to reduce gas flaring in oil wells. (To learn more, see the CEBN's profile of Loy Sneary, another leader featured in our Faces Behind the Facts series.)
You see, John isn't one to back down from a challenge. He's a direct, straight shooter and I've heard him give a piece of his mind (politely) to more than one Member of Congress. But he's also down-to-earth, funny, and remarkably humble for someone who recently closed such a large M&A. He tells a story of an experience at his old job at United Technologies—14 years of which were at the corporation's jet engine manufacturing operation, Pratt and Whitney.
"One of my jobs was to build and test new jet engine designs and validate their robustness for the FAA. That included ice and bird ingestion tests and blade-outs. There is amazing technology that goes into the design of a jet engine, and the modeling of what is about to happen, such as when you shoot a large pheasant into an operating engine and the results versus predictions afterwards. I am glad we went to extremes and made very robust engines; I was on a flight that ingested a bird that caused a diversion to a nearby airport and dumped the majority of our fuel, landing with fire trucks chasing us down the runway."
His story, and the easy-going way in which he frames it, strikes at the heart of John's success. He keeps on pushing, unfazed, through any challenge—even matters of life and death, pheasants and fires.
—Lynn Abramson, Executive Director of the Clean Energy Business Network (February 15, 2018)
#
For more information on ElectraTherm and its clean energy products, please visit www.electratherm.com.
To learn more about BITZER and its advanced refrigeration and compression technologies, visit www.bitzer.de/us.
To learn more about waste heat to power, see these resources and video from the Heat is Power Association.