CEBN Meeting in Washington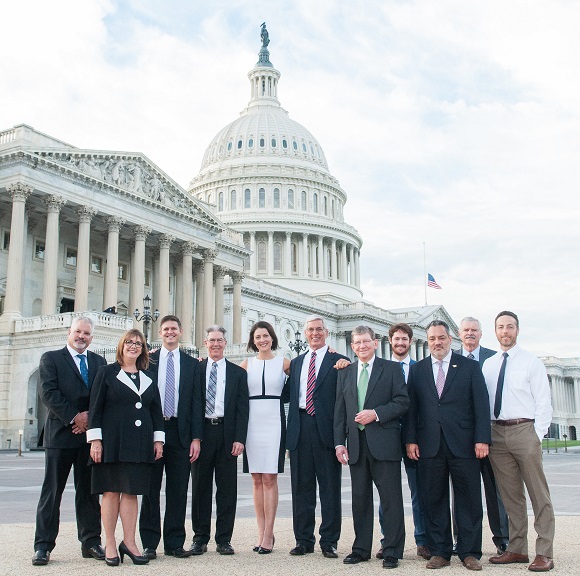 October 04 | 2017
1:00 p.m. - 8:00 p.m. EST
Washington, D.C.
CEBN Ambassadors in Our Nation's Capital
Fourteen members recently visited Washington for Strategic planning discussions and Congressional meetings
November 7, 2017 │ Andy Barnes The Clean Energy Business Network (CEBN) welcomed 14 members to Washington on October 4-5 for the network's first in-person membership meeting since transitioning to its new home at the Business Council for Sustainable Energy (BCSE).  The CEBN members in attendance hailed from diverse geographies and technologies and represented varied histories of engagement with the organization.  During the event, these members contributed invaluable ideas for the future priorities of the CEBN, learned more about our new parent organization, and briefed Congressional offices on their technologies and projects.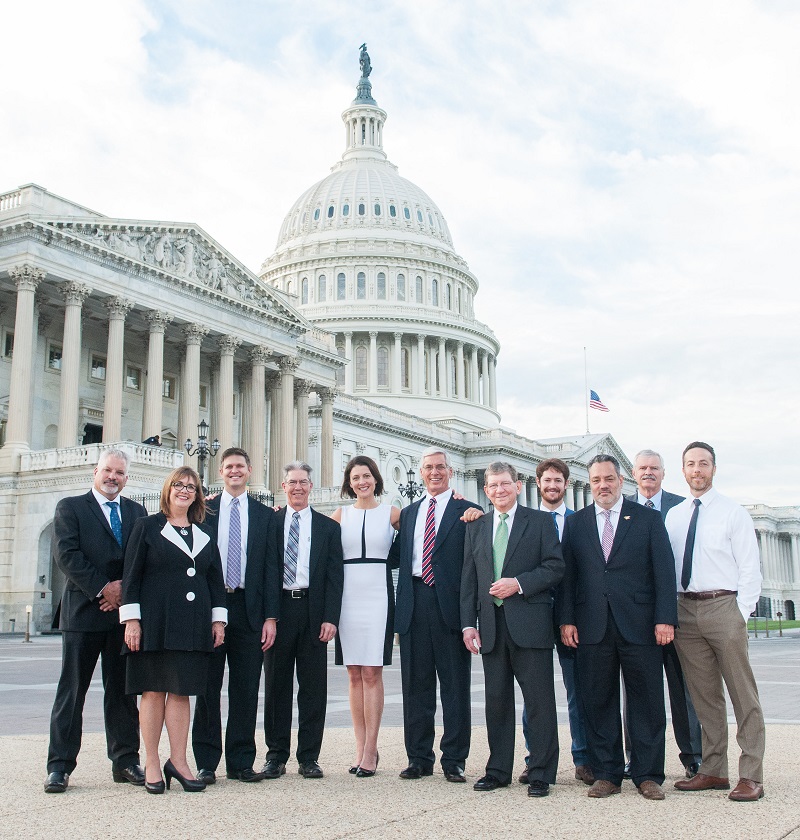 CEBN members and staff gather outside the steps of the Capitol Building.  Left to right: John Fox, Susan Sprentall, Nolan Hill, Michael Sams, Lynn Abramson, Loy Sneary, John Atkins, Andy Barnes, James Jackson, Al Frasz, Jeff Dixon The event kicked off with a half-day session continuing the ongoing dialogue on the CEBN's future policy priorities and member services.  Four members of BCSE's Board of Directors also participated in this conversation, including Chairman Mark Wagner of Johnson Controls and BCSE President Lisa Jacobson. The following day, these CEBN members attended the BCSE's annual membership meeting, to learn more about BCSE's goals and activities and hear insights from guest panelists. Distinguished speakers included Senator Lisa Murkowski (R-Alaska), Chairman of the Senate Energy and Natural Resources Committee; Representative Ryan Costello (R-PA-8), member of the House Energy and Commerce Committee and Climate Solutions Caucus; and Miles Keogh, Executive Director of the National Association of Clean Air Agencies. After the symposium concluded, CEBN members met with the House Energy and Commerce and Senate Energy and Natural Resources Committees for conversations on energy, tax, and appropriations developments. In addition, CEBN members met individually with their Congressional offices to discuss their work and policy priorities.  The CEBN members capped off the event at a reception celebrating BCSE's 25 years of work in energy efficiency, natural gas, and renewable energy policy.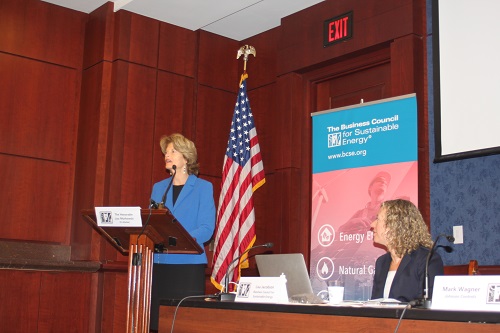 Senator Lisa Murkowski (R-Alaska) addresses BCSE and CEBN members in the Capitol as BCSE President Lisa Jacobson listens. The October meeting was a fantastic kickoff celebration of the new partnership between the CEBN and BCSE, and will hopefully be the start of a fruitful collaboration between the two organizations for many years.  CEBN staff look forward to hosting more members at events in Washington and around the nation in the coming months.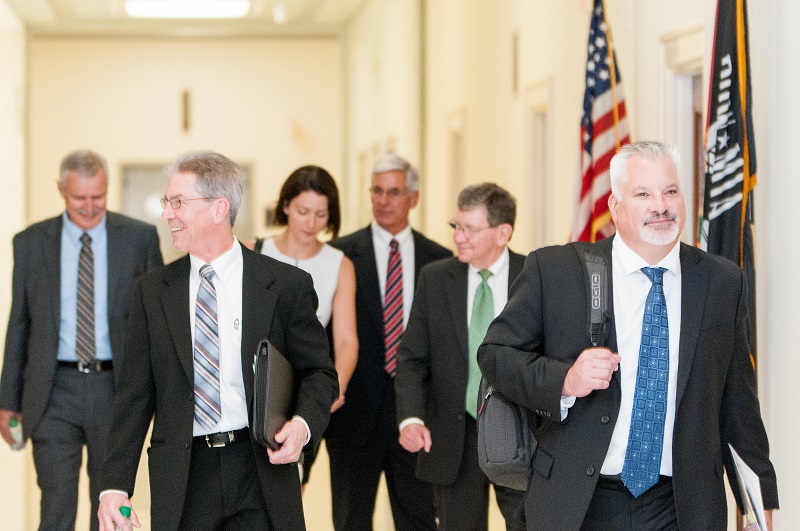 CEBN members walk between meetings on Capitol Hill. Left to right: Al Frasz, Michael Sams, Lynn Abramson, Loy Sneary, John Atkins, John Fox Participants: Thank you to the following CEBN members who joined us in Washington on October 4-5! AMSEnergy Corp. (Columbia, TN): Michael Sams, CEO & President AMSEnergy Corp. is the developer of a new heat pipe exchanger technology to recover waste heat from industries such as cement and gravel production, mining, petrochemical refining, and pulp and paper recycling.  The company's innovative technology provides improved cost and performance benefits over conventional heat exchanger technologies. Capstone Turbine Corporation (Chatsworth, CA): Jen Derstine, Director of Strategy, Policy and Distributor Development Capstone is a producer of microturbine technologies for onsite combined heat and power and other solutions for the hospitality industry, oil and gas, data centers, and manufacturers among others.  Capstone has worked with clients around the world, including the only hotel in St. Thomas to maintain power and water after Hurricane Irma. Dovetail Solar and Wind (Cleveland, OH): Al Frasz, President Dovetail is a leading developer of solar photovoltaic projects in the greater Ohio region, with projects extending to MI, IN, KY, WY, PA, and NY.  The firm has installed projects at commercial properties and schools, utility-scale work for AEP, and residential properties. ElectraTherm (Flowery Branch, GA): John Fox, Managing Director ElectraTherm generates fuel-free, emission-free power from low temperature waste heat using the Organic Rankine Cycle (ORC) and patented technology. In the U.S., ElectraTherm is focused on waste heat applications associated with combined heat and power (CHP) sites and also methane flare elimination associated with waste water treatment plants and the oil and gas industries. The company has a manufacturing plant in GA and a satellite office in Reno, NV. Greener by Design (New Brunswick, NJ): Tom Brys, Energy Consultant An energy management services firm working with diverse technologies and clients, Greener by Design has been working with the town of Hoboken, NJ since Hurricane Sandy on a community-based microgrid solution to power critical facilities more reliably and efficiently.  The firm is also working on projects with NJ Transit and 13 towns and counties across the state. Gulf Coast Green Energy (Bay City, TX): Loy Sneary, President & CEO Serving all of the U.S. coastal states, Oklahoma, New Mexico, North Dakota and the Caribbean, Gulf Coast Green Energy (GCGE) is the oldest representative for ElectraTherm's Power+ waste heat-to-power small scale ORC generator. GCGE brings affordable, efficient, clean and earth-friendly energy production by turning wasted heat into electricity. GCGE has worked alongside ElectraTherm for over ten years to develop solutions to increase internal combustion engine efficiencies, flare gas reduction, generating oil and gas geothermal power as well as solar thermal power. Loy Sneary heads up GCGE as President/CEO and has taken the company from start up to a successful ElectraTherm representative. Highland West Energy (Rexburg, ID): Nolan Hill, CEO & President Highland West Energy designs, builds, and operates combined heat and power projects, and is beginning to explore wind projects as well.  The firm has provided installations or assessments to commercial developers, municipalities, hotels, and recreation centers in ID, UT, OR, and WY. Horizon Power Systems (American Fork, UT): Jeff Dixon, Corporate Account Manager Horizon is Capstone's exclusive dealer for oil and gas and CHP microturbine applications from the Gulf of Mexico to the Northwest Territories in Canada.  The company has been active in the Governor's CHP Policy Working Group and has commissioned projects for the National Security Laboratory, a remote site in the Eagle Ford Shale, and an offshore platform in the Gulf of Mexico, and other applications. MHR Development (Norwalk, CT): Mark Robbins, President MHR provides comprehensive sustainable real estate and clean energy services, including engineering, regulatory compliance, financing support and implementation.  Clients include municipalities, corporate campuses, industrial and multifamily portfolios.  Services include solar PV installations, LED architectural lighting, water and fuel conservation, demand management, and process reengineering for improved manufacturing efficiency (PRIME).  MHR is focused on design excellence and functionality and is both technology and brand agnostic. Optimus Technologies (Pittsburgh, PA): Randy Mullett, Advisor Optimus is a producer of high performance biodiesel conversion solutions that utilize biodiesel (B100) and diesel for medium- and heavy-duty trucks.  The company's technology integrates seamlessly into existing engine systems and doesn't inhibit the use of traditional diesel. SurClean (Wixom, MI): Susan Sprentall, President & CEO SurClean's laser-based technology provides an efficient, non-damaging solution for stripping paint and coatings off aircraft, ships, automobiles, bridges, and other large surfaces.  This methodology increases energy efficiency, avoids surface damage, and minimizes the production of toxic waste and health impacts to workers. TerraShares (Morristown, TN): John Atkins, President & CEO Based in Eastern Tennessee, TerraShares develops solar photovoltaic projects for a variety of clients.  The firm's work includes 26 commercial solar systems for K-12 schools that are all third-party funded.  This novel approach helped the schools overcome state restrictions on the use of power-purchase agreements to move forward with the solar projects, which have generated over $850,000 in revenue for the school system. Thermal Energy Partners (Austin, TX): James Jackson, Chief Business Development Officer Thermal Energy Partners is a developer of geothermal power projects in the U.S. and abroad.  The company has current or upcoming projects in TX, HI, and the island nation of Nevis to provide reliable, cost-effective power.  Thermal Energy Partners has also developed a comprehensive inventory of geothermal resources that were previously poorly known, and is working to bring these solutions to communities across the U.S. and potentially the Department of Defense. UGI HVAC, Inc. (Wyomissing, PA): Gary Fechter, General Manager, Engineering/Performance Solutions As the project development arm of a large natural gas utility, UGI has been providing a wide range of services in heating, air conditioning, energy services, combined heat and power, weatherization, and plumbing services in 15 counties in Pennsylvania for over 120 years.  The company has offices in Bethlehem, Lancaster, Reading, and Harrisburg.