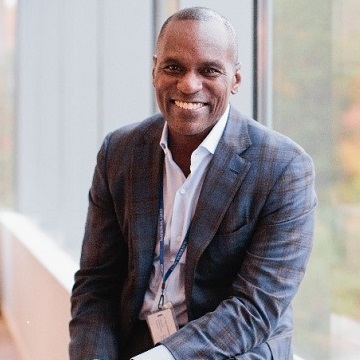 National Grid
Dean Seavers
President
Waltham, MA
(Other office locations throughout MA, NY, RI)
Dean's Favorite Fact.
(2018 Sustainable Energy in America Factbook)
Sales of electric vehicles – a category that includes battery electric vehicles (BEV) and plug-in hybrid electric vehicles (PHEV) – increased 23% to over 194,000 units in 2017, from 158,000 units in 2016.
FACTBOOK
 Steering a Utility Toward a Clean Energy Future
Dean Seavers' grandmother impressed upon him the importance of not being wasteful. She expected her grandson to turn out the lights upon leaving a room. She expected him to close doors quickly to keep the heat from escaping during those cold winters in Sandusky, Ohio.
Utilities and other bills were meaningful expenses for her, and she understood, out of necessity, the connection between daily behaviors and the bills that came at the end of each month. These lessons have stayed with Dean today and this appreciation for conserving resources has influenced how he approaches his work.
"My grandmother taught me about being efficient, limiting waste and practicing mindfulness, which are three values I bring to work every day," he says.
These values are especially important to Dean's role as President of United States operations for National Grid, a British-based multinational electricity, natural gas and clean energy delivery company serving 20 million customers in New York, Massachusetts, and Rhode Island.
Dean didn't initially seek to work in the energy industry. He began his career at Ford Motor Company, then moved to Tyco International Ltd., and landed a role leading General Electric and United Technologies Corporation. The former CEO of National Grid personally recruited Dean to take over the helm in the U.S. company, where he now works every day to assist customers in moving towards a clean energy future. His enthusiasm for the role is palpable, for which he credits National Grid and its value-creation mindset.
"Finding ways to create value for our customers, our shareholders, and our employees is what gets me out of bed every day."
Dean believes in balancing growth and sustainability while creating value for customers and employees alike. In the last year, National Grid has added over 70,000 new customers while winning multiple awards for energy efficiency. The utility has received a host of honors for its efforts to ensure a diverse and inclusive workplace for employees of all ethnicities, genders, and abilities, as well as a 100% rating on the 2017 Corporate Equality Index by the Human Rights Campaign.
"We believe that [our diversity initiatives] will also attract new, diverse talent, as the demographics of the next generation of the workforce changes quite dramatically."

One project Dean is particularly proud of over the past year is the rollout of National Grid's Northeast 80 x 50 Pathway. This blueprint aims to reduce greenhouse gas emissions in New York and New England by 80% below 1990 levels by the year 2050, while supporting economic growth and improving public health. Dean remarks that "the approach combines several strategies that provide a clear pathway to significant emissions reductions, and signal a shift in the way we relate to energy."
The three pillars for achieving these emission reductions are heat, power, and transportation. To this latter point, National Grid is working to promote customer adoption of electric and other alternative-fuel vehicles. In addition to promoting clean energy adoption by customers, the company also offers rebates to employees, funded by shareholders, through the Electric Vehicle and Smart Home Adoption Program for purchases of electric and hybrid vehicles, solar panels, and energy efficient home technologies.
"We support our states' goals of reducing greenhouse gas emissions by 80% by 2050.  Implementing programs like these allow our employees to reduce their carbon footprint and will help us get there."
As Dean plans for the future of National Grid and his own family, he does so with an eye to the past.
"My grandmother was the original efficiency expert in my life, so it's fitting that I have found myself in the energy industry. Now, as I look at my grandson, I feel a responsibility to carry on that efficiency torch and work towards a clean energy future."
—Andy Barnes, Program Manager, Clean Energy Business Network
#