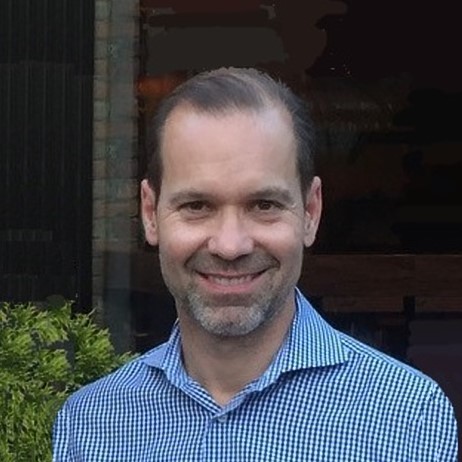 PowerField Energy Inc.
Drew Bond
Co-Founder, President & CEO
Falls Church, VA
Drew's Favorite Fact.
(2019 Sustainable Energy in America Factbook)
Utility-scale installations rose 18% year-on-year, with an estimated 8.1GW installed in 2018. The new build was entirely represented by photovoltaics (PV).
FACTBOOK
Innovating Towards Simplicity
Sometimes solutions to complex problems come in the simplest form. Drew Bond's company is a shining example.
"We're essentially the Lego version of solar while everything else is an Erector Set," he jokes."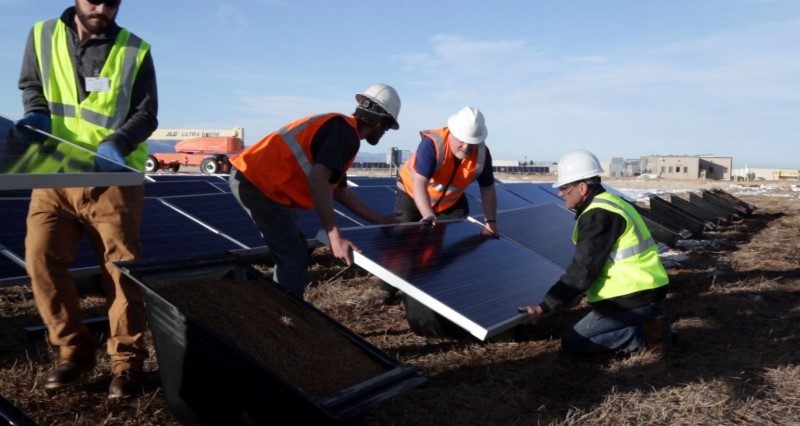 Drew is the Co-Founder and CEO of Powerfield, a company that provides easy-to-install solar energy systems, which use their patented ballasted bin or "rack" filled with sand to hold the solar panels in place. Traditional ground-mount systems usually rely on cement and steel anchors in the ground and require metal fasteners, braces and nuts and bolts.
Powerfield's racking systems are lightweight yet durable, stackable, and made with recycled and inexpensive materials—so they are easier to transport and install at a job site. They are simple to install with minimal training and equipment, potentially shaving weeks off a commercial-scale project. And because they require no permanent fixtures in the ground and involve simple installation and wiring, they can be rapidly deployed and moved—for example, to provide temporary power to a forward operating base in combat.
"Powerfield systems are modular, durable, easy to scale to any size, and cost less than the competition. Simply put, we make solar simple."
Born in Texas and raised in Oklahoma, Drew and his family moved 10 times across the country, wherever his father's job as a truck driver took them. These experiences instilled in him a strong work ethic and exposed him to many communities where energy production was an important part of the local economy.
Drew was the first person in his family to graduate from college, earning a degree in history at the University of Oklahoma and a Certificate in Finance from the Wharton School of Business. From these humble beginnings, his resume over the following two decades paints the portrait of a rising star in the conservative, free-market movement and an entrepreneurial leader in energy innovation.
His earliest policy experience included staffing Oklahoma Senator Don Nickles and then Oklahoma's Corporation Commissioner Denise Bode. Drew says, "The position with Denise was my first exposure to the energy sector. In that role we worked on several large-scale issues helping to infuse competition into Oklahoma's natural gas and electricity markets, while working with independent and major oil and gas companies on siting, permitting, drilling and environmental regulations."
He went on to become Chief of Staff at The Heritage Foundation and won the attention of President George W. Bush's Administration, with job offers for two different political appointments. Chasing his passion for energy, he chose a position in the Department of Energy serving as the Director for Technology Commercialization in the Office of Energy Efficiency and Renewable Energy.
"I was fortunate to be with a great team, and we were able to be entrepreneurial in our role, starting several new programs that have lasted or grown in partnership with the national labs, entrepreneurs, investors, federal agencies and states."
At the end of the Bush Administration, he went on to Battelle, which manages several national labs, in a similar role as a Vice President for Technology Commercialization and Public Policy for Energy and the Environment, and ran a number of startups in the cleantech space. Most recently, "Previous to Powerfield, I was the CEO of a data analytics startup company based in Hawaii that was selling Software and Services (SaS) to help electric utilities better integrate and manage renewables into their energy supply portfolios."
Drew's next cleantech opportunity turned out to be much closer to home: in the garage of his next-door neighbor. His friend and neighbor, David Flory, had teamed up with a former colleague previously at AES Solar, Paul Burdick, to build the prototype for the Powerfield racking system. But the team was struggling to raise finance to scale up and validate their innovation. What was once a dead end for the startup turned out to be the beginning of a beautiful new partnership.
"We joined forces and immediately put my previous startup experiences to work, taking on the role of CEO and getting focused on customer discovery and market validation, raising seed capital from friends and angel investors, fast-tracking our patents and conducting field testing at NREL."
The year 2018 was a great one for Powerfield. Utilizing his knowledge of the energy innovation ecosystem, Drew secured a technical services agreement with the National Renewable Energy Laboratory (NREL) to use the lab's testing capabilities. He says, "We tested and proved that our system is durable in high winds, both in the field at NREL and in a wind tunnel testing facility. We got our first patent issued, with several more pending domestically and internationally. We hired our first sales representative. And most importantly, we got our first customer while building a strong pipeline for 2019." The company has global visions, hoping to take its innovation to areas where people desperately need access to abundant, cheap, reliable, and clean energy.
Drew's fascination with energy innovation extends beyond his own company. He concurrently serves as Senior Fellow and Director of Energy Innovation Programs at the American Council for Capital Formation's (ACCF) Center for Policy Research, where he promotes the acceleration of energy innovation in America.
But of the many hats Drew wears, his favorite is that of family man. His wife, Melanie, was his college sweetheart, and together they are raising four children and have given countless foster children a temporary but loving home.
At home and at work, Drew is committed to making the world a little brighter.
—Bethany Bowra, Communications Fellow, Clean Energy Business Network
#