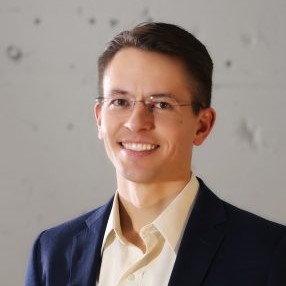 BlueDot Photonics
Jared Silvia
CEO and President
Kirkland, WA
Jared's Favorite Fact.
(2020 Sustainable Energy in America Factbook)
"Utility-scale solar costs continue to fall. With some regional variations, the average fixed-tilt solar project can be built for less than $1/W…Efficiency gains in manufacturing and product innovations are expected to drive costs lower still."
FACTBOOK
Looking at Solar Systems in a New Light
Thirty years ago, on February 14, 1990, the Voyager 1 satellite snapped an iconic image of our planet from four billion miles away. Earth took up less than a single blue pixel against a backdrop of darkness in the photo, roughly the equivalent of the period at the end of this sentence against the rest of your screen.
Carl Sagan would poetically write how the image signifies our collective responsibility to "preserve and cherish the pale blue dot, the only home we've ever known."
Jared Silvia has taken this message to heart. Just as Sagan inspired many to look at the Earth in a new way, Jared Silvia's company is compelling many to look at the potential of solar energy in a new light, quite literally. And, in the process, Jared is working to preserve the pale blue dot we call home.
It's fitting then that Jared and his co-founders named their business BlueDot Photonics.
Jared serves as the President and CEO of BlueDot, a company that is working to redefine how the sun's energy is collected and transformed into electrical power. Across the spectrum of light produced by the sun, traditional solar panels are far more effective at capturing red light than blue light. BlueDot is working to fill that gap and has developed technology to better harness blue light, increasing electricity output of solar PV panels by up to 20 percent.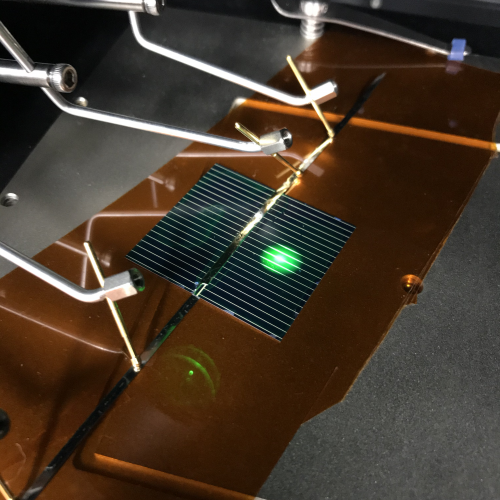 Growing up in the Pacific Northwest near the Hanford Nuclear Reservation and Pacific Northwest National Laboratory, Jared has been impacted by energy innovation from an early age. He attended college at the University of Washington, where he studied chemistry and conducted research that would propel him into graduate school.
"Why chemistry? It tied the world together. And it's critical for solving the problems of the 21st century," Jared says.
His education took him around the world, from Seattle; to Cambridge, England; to Cambridge, Massachusetts. By the time he completed his PhD at MIT in 2011, studying Inorganic Chemistry, the world was already undergoing revolutionary energy innovation.
"Although rewarding from a personal standpoint, life at the lab bench left me wanting more. How could I have an impact in the next decade rather than the next century?"
Jared felt he could have the most immediate impact in the business world, and began his post-academic career with a stint at McKinsey and Co. where he advised clients in the energy and materials sectors on strategy and operation topics. But when his daughter was born, Jared began to consider the impact he was having on the world around him. The energy sector was in the midst of a significant transformation at the time. Renewable energy costs were dropping, and energy consumption and economic output were becoming increasingly independent of one another.
He decided to shift his focus towards developing energy innovations that could provide significant environmental solutions. Ever since, Jared has been on a mission to leave our "pale, blue dot" a better place for his daughter and generations to come.
In 2016, Jared joined the team at Doosan GridTech, a role that saw him planning and executing product strategy for the firm's software and hardware solutions in solar, storage, and other distributed power sectors for utilities and large power producers. Two years later, Jared was serving as an advisory board member for a National Science Foundation (NSF) research grant awarded to the University of Washington's Department of Chemistry.  It was in this capacity that he met Dan Kroupa and Matt Crane, with whom he founded BlueDot Photonics in 2019.
"They had great technology and were looking for assistance with commercializing it. Given my business background in energy and clean energy, I began to work with them to explore business models.  Eventually, we decided to take the plunge and start BlueDot."
BlueDot was one of seven companies in 2019 awarded a $1 million grant from the Department of Energy's Solar Energy Technologies Office (SETO). This grant will fund the development of continuous flash sublimation (CFS), which will produce high-output and low-cost materials to absorb solar energy more efficiently. The company is working to demonstrate that these materials can be used in commercial capacities to produce solar energy in a more innovative way.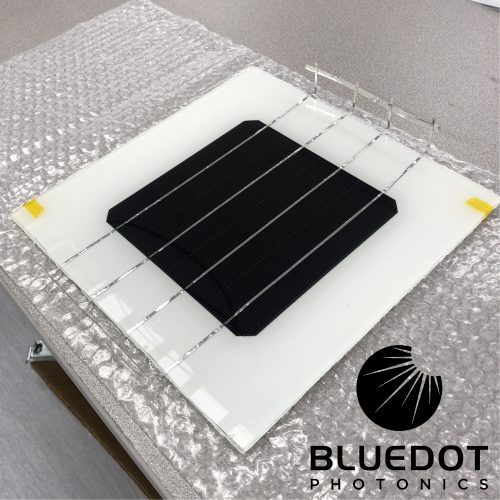 BlueDot is riding a wave of momentum with recognition as Grand Prize Winner of the Cascadia CleanTech Accelerator and the Potential for Impact award. In addition, BlueDot advanced as a semifinalist in the second round of DOE's American Made Solar Prize and is now competing for a final round of $600,000 in additional funding from the DOE.
"We plan to hire new team members in 2020 to accelerate our development as a result of the recent successes."
A generation ago Carl Sagan urged humanity to "Look again at that dot. That's here. That's home. That's us. On it everyone you love, everyone you know, everyone you ever heard of, every human being who ever was, lived out their lives."
Jared's pursuit of clean energy is inspired by the people he loves.
"We are committed to seeing this technology have an impact so it can help our home, the blue dot of Earth."
#