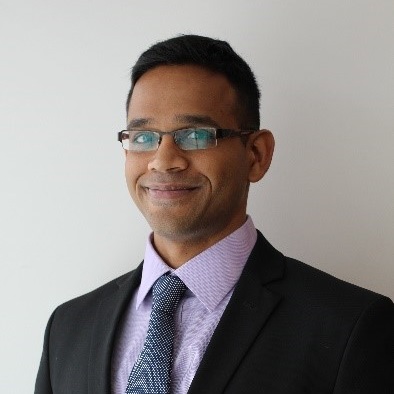 WSP USA
Julian Gonsalves
Consultant
Washington, DC
Julian's Favorite Fact.
(2018 Sustainable Energy in America Factbook)
"Corporations continued to turn their attention to sustainability in 2017. The "EP100", an initiative launched in 2016 through which companies promise to double their energy efficiency, has gained 13 pledgees. On the renewables front, 119 companies globally had pledged by end-2017 to source 100% of their energy from renewables under the "RE100" initiative."
FACTBOOK
Developing the Business Case for Sustainability
Working for Habitat for Humanity often gives people a greater appreciation of what they have but, for Julian Gonsalves, it gave him an appreciation for sustainable development. Now, Julian is applying that interest as a team member at WSP USA, a large infrastructure consulting firm headquartered in New York City.
Julian grew up in Mumbai, a city in west India. He had always been interested in the built environment, so he decided to pursue a bachelor's in civil engineering at the National Institute of Technology Karnataka in Mangalore. Unsure of what his next step would be, Julian took some time to work as a civil engineering associate with Habitat for Humanity, where he participated in the implementation of sustainable housing solutions from a triple bottom line (social, environmental and economic) perspective.
This experience inspired Julian to move halfway around the world to California, where he earned a master's in Sustainable Design and Construction at Stanford University.
"I realized that I wanted to work on developing successful business cases for implementing projects based on sustainable solutions," he says.
After graduating, Julian found the perfect pathway for his interests at WSP USA, which provides engineering and professional services in the energy, water, environment, buildings, and transportation sectors. The firm's team consists of engineers, planners, technical experts, project managers, and strategic advisors, enabling an integrated approach to project management. Julian's role is to provide public-private partnership advisory services and investor due diligence. He helps public and private sector clients make informed procurement and investment decisions and work together on collaborative projects.
"In a way, I'm like a facilitator," he says. "While I focus on the financial and procurement feasibility of projects, given my background in engineering, I am also able to understand the technical aspects."
With Julian's expertise in these areas, he was thrilled about a recent exciting development for WSP USA in 2017. The Maryland Department of Transportation's (MDOT) selected WSP as technical advisor on the Maryland Electric Vehicle Infrastructure Council (EVIC).
The state of Maryland passed a package of bills in 2011 to promote electric vehicle deployment, including legislation establishing the Electric Vehicle Infrastructure Council (EVIC). The EVIC was charged with evaluating incentives for the ownership of EVs and the purchase of EV charging equipment; developing recommendations for a statewide infrastructure plan; and exploring other potential policies to promote the successful integration of EVs into Maryland's communities and transportation systems. WSP has carried out a number of tasks in support of MDOT's EVIC efforts, including: providing staff for meeting support at monthly EVIC and working group meetings; preparing proposal documents on behalf of the state to secure EV infrastructure funding; generating GIS maps of EVs, infrastructure, and demographic information; developing the EVIC's Annual Report; developing operational procedures; coordinating the redevelopment of Maryland's Electric Vehicle website; and conducting public outreach at multiple events across the state.
In addition to the work done in Maryland, WSP USA built on its 2016 technology study for the City of Albuquerque, NY to perform detailed transit facility infrastructure engineering designs in 2017 to support the city's roll out of its first phase of Battery Electric Buses.
Julian is excited to see an increasing appreciation of sustainability among corporations and the public sector alike, an important trend documented in the 2018 Sustainable Energy in America Factbook.
"The growing demand for corporate sustainability has only solidified my conviction in a triple bottom line approach to tackling infrastructure challenges," Julian says.
—Alex Gerard, Spring Intern, Business Council for Sustainable Energy & Jordon DeGroote, Communications Intern, Clean Energy Business Network (July 10, 2018)
#