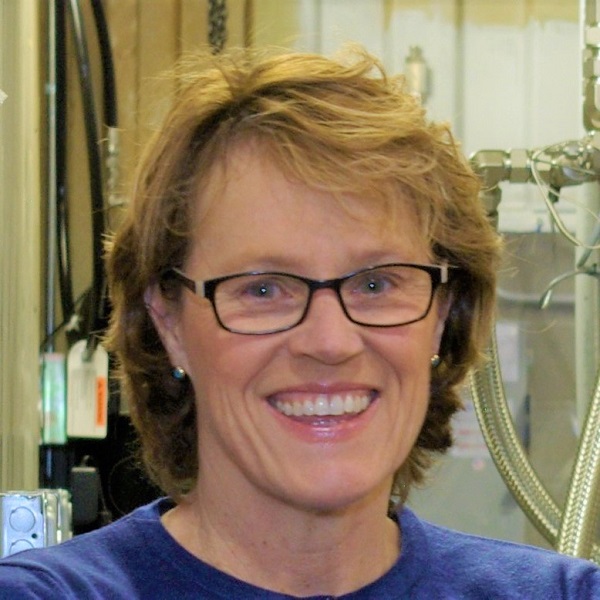 Onboard Dynamics
Rita Hansen
CEO
Bend, OR
Rita's Favorite Fact.
(2018 Sustainable Energy in America Factbook)
"Natural gas use in vehicles has grown steadily since 2013. In 2017, the amount of natural gas used for this purpose rose 4% year-on-year to 43.4Bcf. This represents a 44.5% increase over 2013 levels, and a 5.9% compounded annual growth rate over the last decade (since 2008). The pick-up in 2014 coincided with the start of a period of low natural gas prices across the U.S."
FACTBOOK
A Game-Changer for Natural Gas Vehicle Fueling
When Rita Hansen was introduced to a local researcher at Oregon State University in 2013, she could immediately see the promise of his natural gas compression technology—along with the challenges in turning it into a mature product.

That researcher was Dr. Chris Hagan, an Assistant Professor at Oregon State University who had been working on a concept for integrating natural gas compression into an automotive engine. The Advanced Research Projects Agency – Energy (ARPA-E), a federal program that helps support early-stage technology development, had given Chris a $1 million award to prove the technology.
Chris was having tremendous success accomplishing the technology development milestones for the ARPA-E award but was challenged with meeting the tech to market milestones. This is not a unique situation for innovators of new energy technologies.

As Rita explains, "It's not just the science and technology, but also will someone buy it at the end of the day."
Chris knew he had to pull in the right business team. He reached out to Economic Development for Central Oregon, a local economic development agency. EDCO put him in touch with Rita. She had an engineering background and more than thirty years' experience in major energy and technology companies—so she understood the technological promise but also brought to the table deep expertise in business development, commercialization, and angel investment.
Rita and a team of local entrepreneurs rallied behind Chris to develop a commercialization pathway. They established the company in October 2013, with Rita at the helm as CEO. The team successfully pitched ARPA-E for a follow-on investment to take the proof of concept Chris had developed to the next stage of product development. Along the way, Rita and her team pulled together other local finance and commercialization partners—including cleantech incubator Oregon BEST and the Oregon Nanoscience and Microtechnologies Institute (ONAMI).
Even with a strong team in place, it wasn't always smooth sailing. The original concept was to integrate the compression technology into a vehicle.
"Halfway through the process," Rita says, "in response to the market feedback we were getting, we adapted the product from Onboard Vehicle to a mobile compressor."
Essentially, prospective clients kept telling Onboard that they already had the vehicles, but needed a better way to fuel them. So Onboard instead focused on making the compressor portable.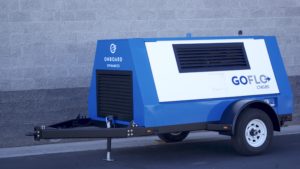 By the end of 2017, Onboard Dynamics completed its ARPA-E award, secured a major manufacturing partner—Linamar Corporation—and officially launched commercial production of its first product, the GoFlo™ CNG80. The GoFlo™ is a mobile natural gas compressor that can turn pipeline or renewable natural gas into fuel for NG vehicles.
And as for Rita's question, "Will someone buy it?"—the answer is a resounding yes. Onboard has secured its first field demonstration project to begin deploying the GoFlo™ at a customer site with Southern California Gas Company (Sempra), a large natural gas utility.
The GoFlo™ could be a game-changer in how natural gas fleets are fueled.
"We work to lower fuel costs and carbon emissions by removing infrastructure barriers to driving natural gas-powered vehicles," says Rita. "Our product line integrates natural gas compression into automotive engines, thereby allowing fleets to refuel economically from any low pressure natural gas supply line or renewable source without the need for electricity."
Because Onboard's unit is so portable and doesn't require electricity, it's also useful in disaster response along with everyday fleet refueling.
One trend that interests Rita from the 2018 Sustainable Energy in America Factbook is the growing use of natural gas as a transportation fuel. She says, "We believe that this trend will continue to increase, especially with the deployment of new renewable natural gas projects coming on line in the next few years. The environmental benefits of using R-CNG as a transportation fuel are a real game-changer in the transportation industry."
Rita elaborates on these environmental benefits, quoting Marianne Mintz of Argonne National Laboratory's Energy System Division, who says "R-CNG can achieve the greatest GHG reductions of any transportation fuel today—70 percent or more as compared to gasoline or diesel."
She adds, "In 2016, over 60% of all natural gas consumed in California as a transportation fuel came from a renewable source. The National Petroleum Council estimates that 35 billion gallon gasoline equivalents nationwide is possible—which is the equivalent of 1.2 times total diesel consumed by freight trucks."
Onboard Dynamics' story demonstrates how important it is for entrepreneurs to be adaptable. From the first seeds of the technological idea, to pulling together the right business team and financial package, to rethinking the product design, the Onboard team has been willing to listen to new perspectives and make changes to suit the market. Rita says that all of Onboard's strategic partners "have helped us get up to the point where today we're now standing on our own two feet."
—Lynn Abramson, Executive Director of the Clean Energy Business Network (February 15, 2018)
To hear more from Rita, listen to a CEBN webinar on ARPA-E funding opportunities and advice from prior grant recipients.
Learn more about the launch of the GoFlo™.