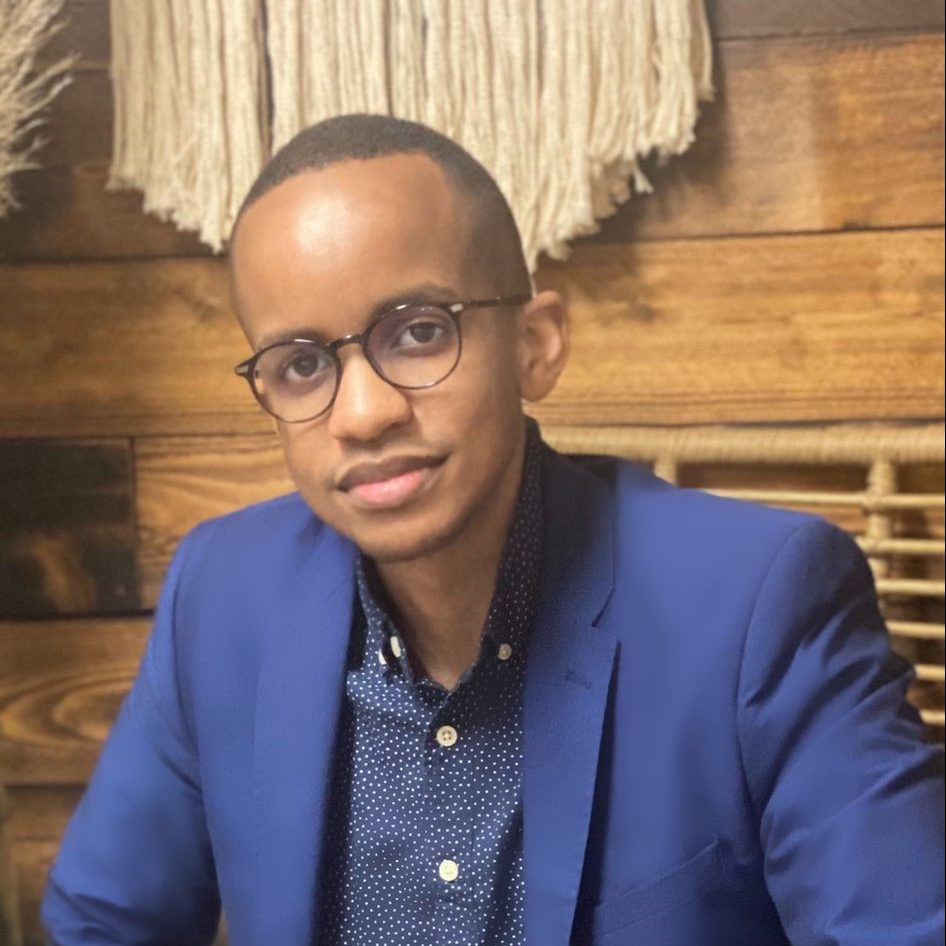 Sync Energy AI
Rob Kabera
President & COO
Birmingham, AL
Rob's Favorite Fact.
(2022 Sustainable Energy in America Factbook)
"Companies around the world developing technologies and demonstration projects that might someday help the U.S. achieve its net-zero CO2 ambitions attracted $165bn through private investment and IPOs."
FACTBOOK
Out of Darkness: Hope for a Brighter Future
As a young child, Rob Kabera fled genocide in his homeland of Rwanda. He spent 6 years in refugee camps across Africa. Many nights he found himself reading by the light of a kerosene lamp. Today, he's the President and COO of Sync Energy AI, a firm that protects communities against electric power outages and other impacts of climate disasters.
Rob's journey from refugee camp to the board room is remarkable, and he sums it up with one simple phrase: "You can't appreciate light until you've been in darkness."
Rob and his family left the darkness of the Rwandan genocide and refugee camps and were re-settled in Memphis, Tennessee when he was 11. After earning a degree at Stanford University in energy resource engineering, Rob founded a company that enabled clients to better assess the credit risk of under-served African markets.
He also gained on-the-ground energy experience as a power engineer on large scale solar projects with Siemens Energy and worked with a US government agency and off-grid energy companies on projects throughout Africa. In this period of his career, he saw it all, working with 50 companies in 9 different countries.
This on-the-ground understanding of how energy is used and deployed in developing countries formed the foundation for Rob to launch Sync Energy AI in 2020. The firm leverages machine learning and AI to improve predictions for grid failures before they happen.
His business partner, Sayonsom, grew up in India, where he experienced frequent blackouts from monsoons. First-hand experiences of going without power inspired them both to focus on improving the resilience of critical energy infrastructure and protecting vulnerable communities. Between Rob and Sayonsom, it is safe to say that Sync Energy AI knows the value of a functioning grid, and the real-world impacts for those that lose this vital lifeline.
Rob calls Sync Energy AI a "climate defense company" because it defends communities against the impacts of climate change and climate-related disasters. They have developed easy-to-use predictive grid failure analytics tools to improve the resiliency of critical infrastructure against severe storms and other disasters. Initial pilot projects have shown more than 80% accuracy in predicting the sources of outages.
"At the most basic level, we tell you which tree is going to hit the power line where, how many customers will lose power, and how long it will be gone. All this, weeks before the events, with up to 87% predictive accuracy."
This type of platform could enable cities, electric cooperatives, municipalities, utilities, and insurance professionals to run complex simulations and be alerted to threats to the electric grid weeks, sometimes months, in advance of a disaster. With this kind of tool, as a society, we could be more proactive when responding to the impacts of climate change. It also means that fewer people would go without power as key stakeholders are better able to manage threats to the grid.
In its first two years, Sync Energy AI has grown to support 3 rural electric cooperatives, a city, and an energy professional association of over 140 member firms. Sync Energy AI's customer base started with utilities, but now the vision has widened. Rob is excited about the potential for continued expansion by bringing on more cities and eventually, the Federal Emergency Management Agency (FEMA). Additionally, he's optimistic about the impact of recent federal legislation.
For instance, he noted the Bipartisan Infrastructure Law will better enable technologies like his to be shared with communities everywhere—rather than just the few companies that can afford it.
More than a decade ago, when Rob first started in the energy space, it was "boring, unattractive, unsexy," but now it's on the forefront of most major domestic and global developments. Rob feels privileged to be in this space, making an impact.
He quotes the Zulu phrase, "sekujalo ke nako," which means "now is the time." Rob believes, "Now is our time. We have the ability to shine and come together as a society and do great things." Rob's story is hopeful, proving that despite extreme hurdles, one person can push for a brighter future, have a positive impact on many, and ensure that others are not left in the dark.
-Allie Judge, Associate, Clean Energy Business Network