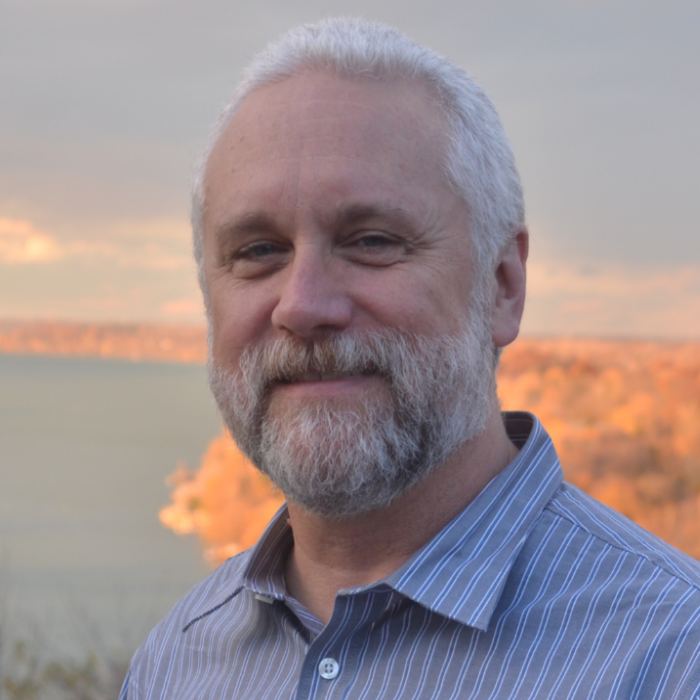 Echogen Power Systems
Timothy Held
CTO
Akron, OH
Tim's Favorite Fact.
(2021 Sustainable Energy in America Factbook)
"In its final major act of the year, the U.S. Congress overwhelmingly approved mammoth legislation to provide $900 billion in stimulus to the U.S. economy and $1.4 trillion to keep the federal government operating. The 5,600-page bill contained provisions to extend and expand key tax incentives for renewables and energy efficiency along with $35 billion in commitments over 10 years to fund research, development, and demonstration of low- and zero-carbon energy technologies."
FACTBOOK
Taking Flight with Tim
It was 7 pm on a Friday night in 2007, and Tim Held was at home when the phone rang. His senior manager at GE Aviation wanted to meet at his office the following morning. It was urgent.
"In the final ground test of our new GEnx engine for the Boeing 787, combustion instability caused a part to break loose and damage the turbine," Tim explains. "It was all hands-on deck to find a solution."
Tim's team at GE Aviation worked on cutting-edge technology including flight engines, industrial aeroderivatives (flight engines that have been converted to power generation), and ultra-low emissions, state-of-the-art combustors. The GEnx combustor boasted a brand-new design and technology that had never been used before. Truly one of a kind, the engine offers up to 15% improved fuel efficiency and 15% less CO2 compared to other models. The ground test that fateful Friday evening was the last step required before certification testing was to begin—the failure threatened to delay not only the engine but the aircraft flight certification as well.
For the next 15 months, Tim did not sleep much. His team ran tests around the clock. Tim shuttled back and forth between the test facility, 70 miles outside Cincinnati, his work office, and his home office to run tests, download, and analyze gigabytes of raw combustion instability data.
After months of investigation, analysis, testing, redesign, and more testing, the team delivered a successful design that now is flying on over 2,700 airliners across the world. Tim finished the job, and it was time for the next challenge.
From an early age, Tim was interested in mechanical devices and intellectual challenges. He grew up in a small town in Nebraska and considers himself particularly lucky to have had two teachers at his public high school who fueled his love for math and science.
Tim would go on to attend Purdue University and truly find his niche – energy, and power – and continued to dig deep into the chemistry of energy conversion. It was Tim's desire to learn more, understand the world around him, and solve challenges, that would lead his academic path straight to a Ph.D. in combustion and fuels at Princeton University, and ultimately a position at GE Aviation.
After 13 years on the cusp of aerospace and power generation innovation at GE Aviation, it was time for Tim to pursue a new adventure and apply the engineering and technology knowledge he had gained. Tim transitioned in 2008 to help lead the engineering efforts at Echogen, which at the time was a 1-year-old company. He packed up his wife and four children to move across the state in the middle of the school year and sold a 100-year-old farm in the midst of the housing crisis. But Echogen was the start of something new and the company's focus on energy efficiency and environmental issues was motivation and inspiration enough to embark on the journey.
Echogen develops power generation systems that convert heat to electrical or mechanical power. Its technology uses a closed-loop cycle that circulates a fluid (carbon dioxide) in the "supercritical state" (sCO2), extracts heat from an industrial process, then expands the fluid through a turbine to generate power. sCO2 power cycles offer improved efficiency and lower cost than traditional steam systems and can operate autonomously in remote and hostile environments.
Recently, Echogen has also begun developing electrical energy storage systems using technology derived from its sCO2 power cycle work. Echogen is privately funded and has received numerous grants to support this research from the Department of Energy including from the Office of Energy Efficiency and Renewable Energy and the Advanced Research Projects Agency for Energy. In 2019, Echogen's technology was selected for a waste heat recovery project at a TC Energy facility in Alberta, Canada, which is set to be the first commercially operational sCO2 power system in the world.
Tim strongly supports and encourages the next generation in pursuing their interests—including his kids, whose interests include code development, radiology technology, law enforcement, and environmental science.
Tim was also drawn into helping coach his kids' high school robotics team—his elder son was a founding member of the team and his younger daughter also participated in later years. Even after their graduation, Tim continues to serve as the Controls Team Coach and enjoys being able to share his experience with the next generation of budding engineers and technologists.
Tim shares, "The Robotics competitions bring together different students that can utilize their individual strengths, such as design, fabrication, controls, driving, and marketing. Each student is excited about their team, learns how to collaborate, and allows their creativity and curiosity to carry them. It provides great preparation for the multidisciplinary team environment found in innovative small companies like Echogen."
Perhaps these students' dreams will take flight just as Tim's did.
-Zainab Mirza, Program Associate, Clean Energy Business Network
#