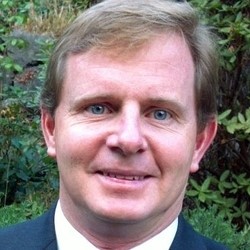 Whooshh Innovations
Vincent Bryan
CEO
Seattle, WA
Vincent's Favorite Fact.
(2019 Sustainable Energy in America Factbook)
"Hydropower closely followed by wind are the largest sources of zero-carbon, renewable generation in the U.S."
FACTBOOK
A Fish Tale You Won't Believe
Truly original ideas are rare these days, but it is safe to say that Vincent Bryan stumbled upon one. 
 
Bryan grew up in an entrepreneurial family, and this exposure certainly rubbed off on him. His career has led him to innovate a wide-ranging array of technology solutions, from medical advances to fruit transportation. This diverse experience enabled him to think outside the box and identify an application for an invention in a completely different domain. 
 
Vincent's family developed technology through field research to identify the most effective ways to safely move fruit during harvest, but it was the leap from the farm to fish that was the biggest innovation. One day he found himself standing on his farm, staring up into the sky, watching helicopters carry large amounts of salmon in buckets over a nearby dam. 
 
That same season, in a grove of 50–year-old California citrus, the trees completely died off. The reason? Water that had once fed the orchard had been diverted to save the salmon. 
 
Staring at those helicopters over the Columbia River and thinking of those dead trees in California, Vincent wondered whether his company's fruit-moving tubes could be used to move salmon as a more efficient way to transport the fish over the dam and save water. This experience was the catalyst for Whooshh Innovations. 
"This sparked the idea that maybe we could move fish through our fruit transport system," Vincent says.
Whooshh Innovations works to allow native fish to migrate safely past dams by bringing its fruit moving-technology to rivers. This innovation not only benefits the fish, but it also benefits the dam operators; the fish are transported without the use of water, which is conserved to generate more hydropower. This breakthrough idea has the potential to allow up to 10 percent more water to be harnessed for hydropower production, and it will allow fish to travel between bodies of water more efficiently. 
This unique innovation eliminates the need for fish ladders and allows fish to travel within seconds using only misted air. It helps significantly ease the management of fisheries as well; native fish pass through selectively and others are filtered out, increasing the efficiency of fisheries management and enabling dam owners and operators to cut costs.  
Conventional fish passage requires up to 10% of the river water be diverted from hydropower production. Whooshh fish passage requires no water from the forebay, more than paying for the selective fish passage system.
 
Vincent notes, "At the same time we help restore fisheries, by selectively passing native fish, and sorting out invasive species, and save operators a great deal of money, too. Increasing clean energy and fish without the environmental cost!"
First tested in 2011, the technology has been verified by independent and peer reviewed studies. Whooshh systems have since been deployed at commercial aquaculture facilities, processing plants, and hydroelectric dams in the United States and Europe.
Vincent has exclusively focused the company's R&D on fish passage since 2013.  
"Realizing the benefit for increased clean energy where fish ladders are involved, as well as the environmental benefit for fisheries, we pivoted from fruit to fish." 
Whooshh is currently participating in the Department of Energy's "Innovative Design Concepts for Standard Modular Hydropower and Pumped Storage Hydropower" project, as well as additional projects throughout the rest of 2019.  This work is highlighted by the product's recent rise to viral fame, which has led to recognition across the media landscape.  
 
Vincent was given the chance early on in life to make his own business decisions, and he credits this experience with his ability to take risks and find success today.
"These experiences taught me you can't be afraid to fail. That provides the freedom to plow new ground and make your own vision come to life."
Whooshh is not just launching fish over dams, it is launching new possibilities that benefit wildlife, clean energy, and economic productivity.
—Bethany Bowra, Communications Fellow, Clean Energy Business Network
#