Powering Forward Together on Our Third Birthday
May 1, 2020 | Lynn Abramson, President, CEBN
Note: This post was updated May 21 with the latest membership numbers.
May 1, 2020 marks the third birthday of the Clean Energy Business Network (CEBN) as the small business voice for the clean energy economy. Three years ago, we spun out of our former home as a project of The Pew Charitable Trusts to formally launch our organization as an independent, small business subsidiary of the Business Council for Sustainable Energy (BCSE).
Our collective strength rests on the leadership of our individual members. CEBN has grown to a record high of 4,100 business leaders nationwide—more than 900 of whom joined our community in the past year alone. And we are seeing increasing levels of engagement and participation from these business leaders. As our ranks continue to grow, so too does our collective influence in the policy, public, and business spheres.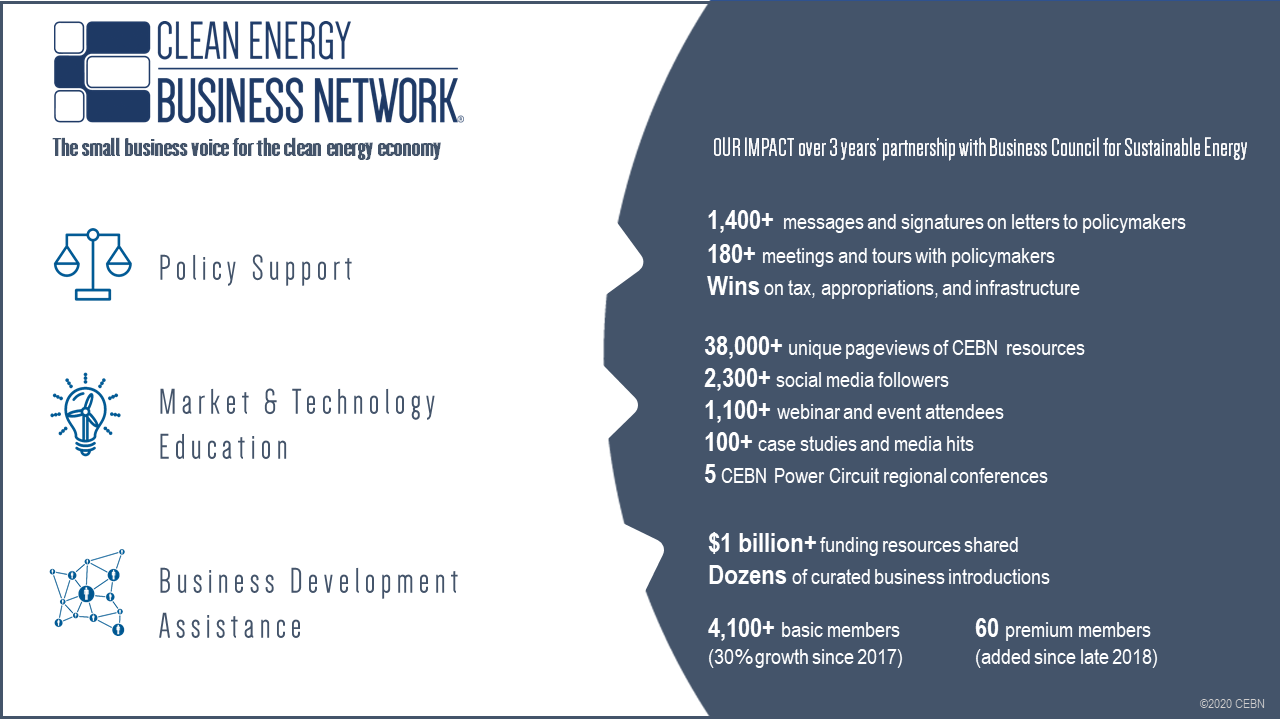 Over the past three years, we have expanded and strengthened our mission, working to enhance opportunities for clean energy businesses through policy support, market and technology education, and business development assistance.
We've helped small business leaders keep their fingers on the pulse of rapid developments in Washington and make their voices heard—contributing to policy wins such as record appropriations for many clean energy programs, extension of expired tax incentives, and investments in resilient energy infrastructure.
We've communicated the breadth and benefits of clean energy solutions to the public, policymakers, and prospective clients, and promoted information exchange within the industry about new market and technology opportunities.
And we've helped small businesses reach target markets and grow, through an aggregated funding database that has shared more than $1 billion in grant and project finance opportunities, a business networking directory, and curated introductions to prospective partners.
Fittingly, the first week of May is traditionally National Small Business Week, when our nation celebrates the small businesses across the country that comprise 99% of all employer firms. But this year, the week of celebration has been postponed as small businesses across the nation are shuttered. During a time of uncertainty and adversity, it is more important than ever that we come together as a community.
At CEBN, we are finding new ways to support the small businesses across our community during this time of need. Our COVID-19 Small Business Resource Center provides information about a range of financial relief resources. Additionally, we have temporarily opened up free access to our Funding Database, a searchable aggregation of funding opportunities for clean energy technologies and projects of all stages. And we have partnered with the BCSE to launch Powering Forward, a new webinar series that examines the unique impacts facing clean energy industries at this trying time, along with the vital role of our sectors in our future economic recovery.
We will get through this period of adversity together, and we will emerge as a stronger, more resilient industry and nation.