A Transformational Year for the Clean Energy Business Network
December 15, 2017 | Lynn Abramson, President, Clean Energy Business Network
Major accomplishments in 2017 and a sneak peek at 2018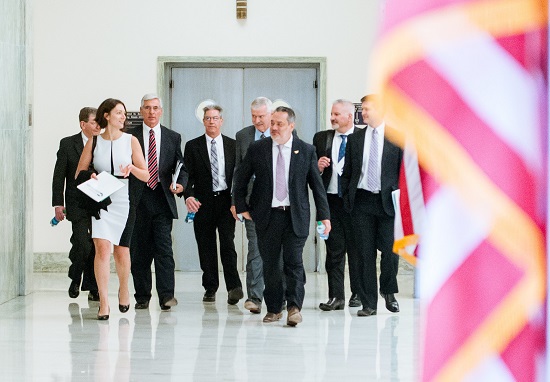 This year has been transformational for the Clean Energy Business Network (CEBN). In May, we moved from The Pew Charitable Trusts to our new home in the Business Council for Sustainable Energy (BCSE), a 25-year-old nonpartisan trade association for the energy efficiency, renewable energy, and natural gas industries. Over the past half-year, we've rebranded our identity inside the beltway and across the nation, rolled out exciting new content and services for members, and completed a member-driven strategic planning effort to guide the future of our organization. Thank you to all of our members who contributed to these efforts; you have been critical to ensuring a successful transition. More than 200 of you completed our member questionnaire in September, and 50 of you have participated in Strategic Planning and Advisory Committee discussions this fall to help us identify challenges facing your businesses and ways the CEBN can provide value to you. Fourteen members came to Washington DC in October to brainstorm with us in person.
Based on these findings, staff have developed a draft work plan, governance structure, and financial plan. We are excited to begin vetting these ideas with our Strategic Planning and Advisory Committee members in the coming weeks and unveiling them to the entire membership in January.

Additionally, thank you to our members who attended meetings with Congressional representatives in Washington DC and Utah. These discussions were critical to our efforts to improve policymakers' awareness of and enthusiasm about clean energy technologies, and to help them better understand the challenges your companies are facing. Six of you helped us record our first podcast on strategies to make the electric grid more resilient against natural disasters. Many others participated in our webinars and conference calls, contributed case studies for our website and Hill briefings, authored OpEds or shared company news with us, hosted site tours, took action on our policy campaigns, or connected with staff to discuss prospective business opportunities you were interested in pursuing with fellow CEBN members. See the table below for a summary of what we've accomplished together this year.
Looking ahead, here's a sneak peek at our work plan for 2018, which we look forward to briefing you on in January:
Continuing the CEBN's tradition of providing education and advocacy to federal policymakers, as well as introducing a new program to educate state policymakers about clean energy technologies and the challenges they face
Expanding the range of content for our webinars, blogs, and briefings to include additional topics, including expert business and legal advice, state policy developments, and international trade opportunities
Introducing optional new resources to help you network with potential partners and clients, including a public member directory and tools to help you connect with other members about business opportunities, peer-to-peer advice, and niche topics
Hosting more in-state events such as meetings with decisionmakers, networking activities, and briefings from business and policy experts
Working to grow our public reach via social and traditional media so we can help you share information about your technologies with a broader audience
Growing and continuing to diversify the geographic and technological reach of our membership
Please help us grow! Refer your business partners, suppliers, and other colleagues to the CEBN at www.cebn.org.

While we cater primarily to clean energy technology and service providers, we also welcome consultants, nonprofit leaders, academic researchers, government officials, and individual stakeholders. Anyone who appreciates the importance of the clean energy economy should consider joining. Thank you again, and have a wonderful holiday season.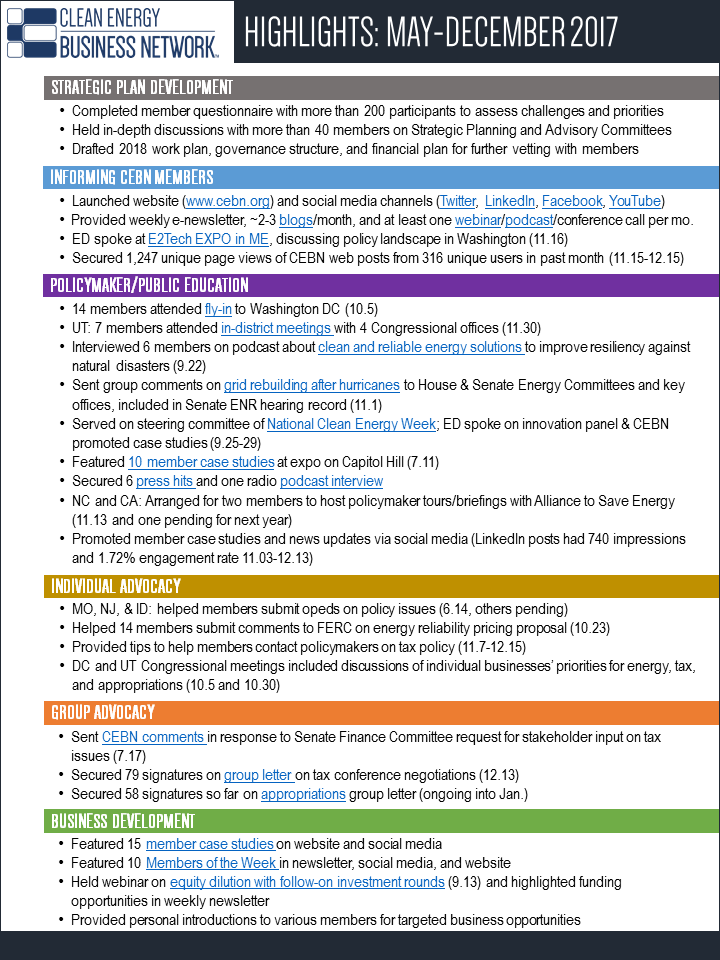 Follow @l_abramson  on Twitter to hear more from Lynn. Follow the CEBN on Twitter, Facebook and LinkedIn
###
The Clean Energy Business Network (CEBN) works to advance the clean energy economy through policy, public education, and business support for small- and medium-size energy companies. Started in 2009 by The Pew Charitable Trusts, the CEBN is now a small business division of the Business Council for Sustainable Energy. The CEBN represents 3,000+ business leaders across all 50 U.S. states working with a broad range of clean energy and transportation technologies.