Boston Paves the Way for Innovation in Cleantech Financing
June 20, 2019 | Bethany Bowra, Communications Fellow, Clean Energy Business Network
On June 12th, 2019, the CEBN and Natixis Investment Managers co-hosted a clean energy policy and business forum in Boston, MA: Boston and the Global Cleantech Investment Landscape. This event was the latest edition of CEBN Power Circuit, a series of regional forums bringing together leaders in the business, investment, research, and policy communities to explore market and policy landscapes for clean energy in communities across the nation.  The Boston dialogue explored new approaches being taken to advance cleantech innovation and deployment through a variety of financing channels, including early-stage equity investment, project capital, public-private partnerships, power procurement, and asset management.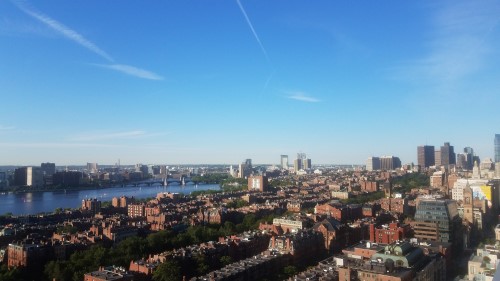 You can view the full program for a list of speakers and panels here.  Below is a summary of high-level takeaways from the discussion:
Sustainable Investments are Becoming Mainstream
The event opened with Jens Peers, CIO of Sustainable Equities and Fixed Income at Mirova, discussing the landscape for sustainability on a global scale. He said, "What we see globally is there's a lot more appetite for sustainability, which is not only good for us, but there are better investment options available to finance this role as well."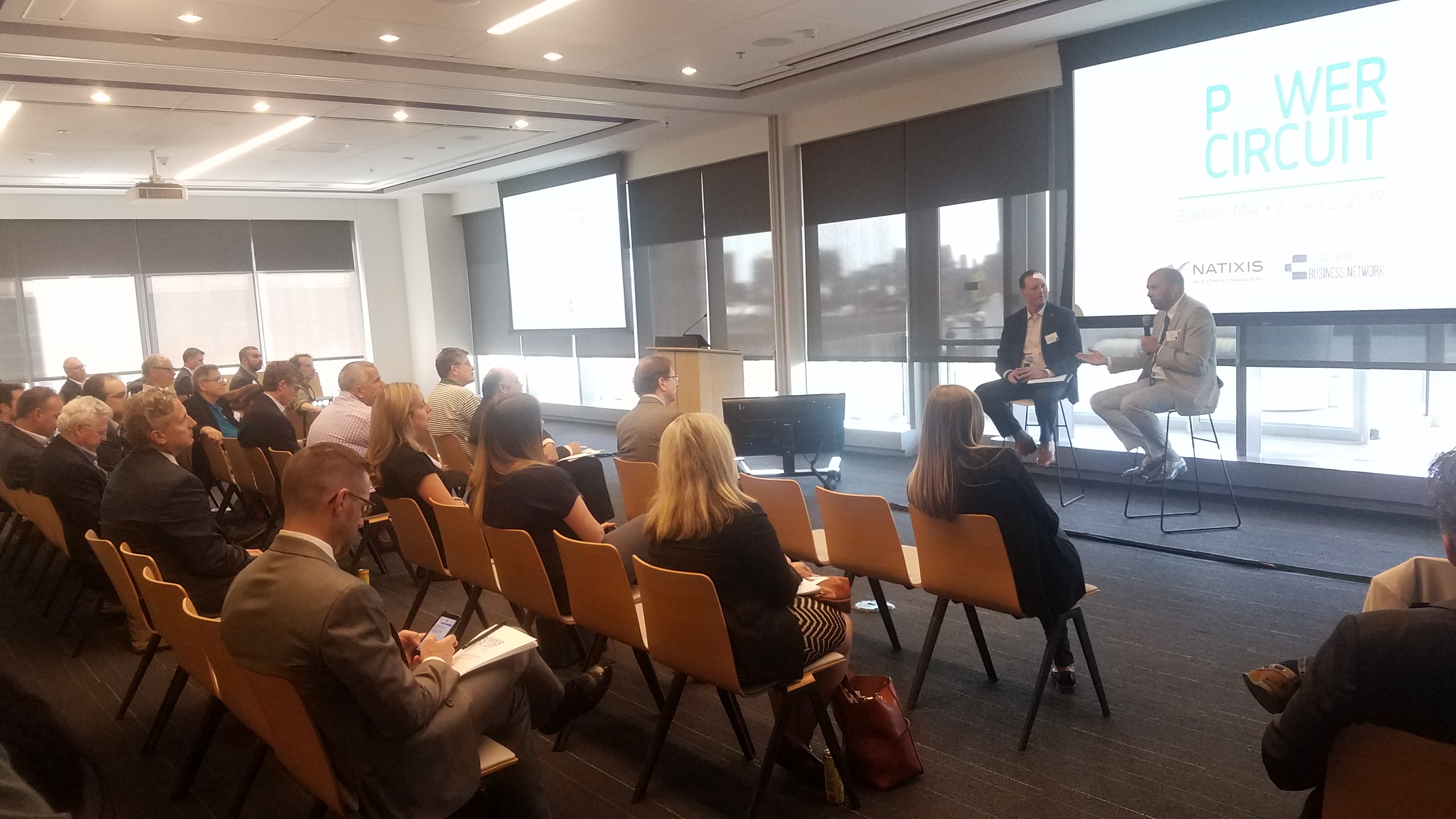 Peers highlighted Mirova's underlying goals, and how the company has worked to provide solid financial capabilities and reliability for others in the sustainabilty market. He discussed evidence that ESG investments (i.e., those screened for positive environmental, social, and governance practices) actually leads to a more predictable and favorable return while benefitting industries such as healthcare, the economy, and environmental management.
The Mirova executive framed environmental challenges as posing a business and market opportunity, saying "If there is a sustainability problem, there is a business linked to a solution for that."
Global Investment Landscape is Improving
The global opportunities for cleantech finance, from early-stage technology development to project capital, are increasing.  In the past, the market, business, and policy incentives necessary to encourage investments were not yet in place, but this has evolved.  "You have a much more stable environment as far as the drivers of [investment]," said Jean-Noel Poirier, Executive Managing Director of the Clean Energy Venture Group.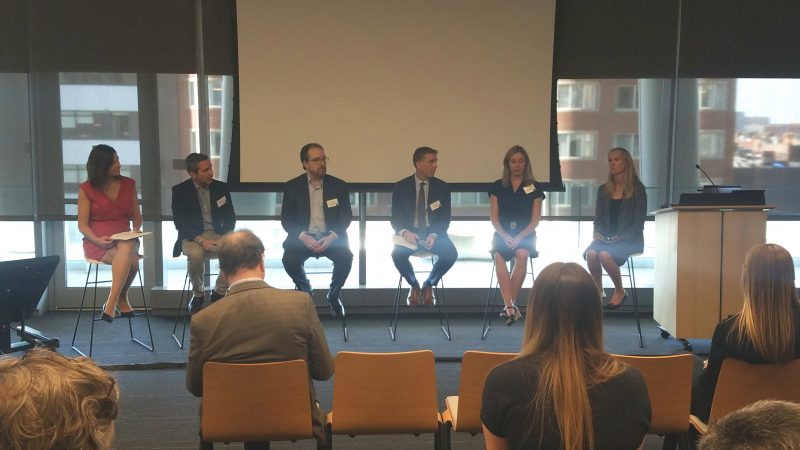 Amber Fairbanks, Portfolio Manager at Mirova, noted how the growing track record of successful clean energy projects is increasing investor appetite for sustainable funds.
Panelists also discussed how policy signals impact  demand and financing opportunities for clean energy products. Laura Pagliarulo, Senior Vice President for Community Solar and Commercial Sales at CleanChoice Energy, discussed the growing momentum for community solar programs and retail electricity choice in states across the U.S. These programs are enabling more residential and commercial customers to reduce their carbon footprint.
At the federal scale, Peter Flynn, Managing Partner at Bostonia, pointed to the increasing use of performance contracting and other financing tools to help federal agencies deploy energy efficiency and renewable energy projects, and noted that in the current Administration the primary motivation behind these projects is to improve energy resilience.
Continued progress growing clean energy markets will require technological, market, and policy innovation. As pointed out by Sander Cohan, Director of Innovation for Enel Green Power North America, "You want to include as many ideas as possible." He discussed how his corporation is forging business partnerships with external entrepreneurs to crowdsource innovation and develop solutions to challenges facing Enel's renewable energy projects.
Massachusetts Has a Thriving Cleantech Ecosystem
Representatives from three Massachusetts-based organizations shared information about their resources for clean energy businesses and customers, as well as their visions for the future.
The Massachusetts Clean Energy Center, represented at the event by Chief Financial Officer Jennifer Daloisio, works to increase awareness of clean energy and promote new innovations and clean energy startup companies that will continue to make clean energy more affordable for middle-class families.  As she noted, "Part of our job is to listen to the industry, to really understand the needs and wants of the industry and design our work to reflect that."  The Center offers a range of financing tools for businesses and customers, including a solar loan program for homeowners.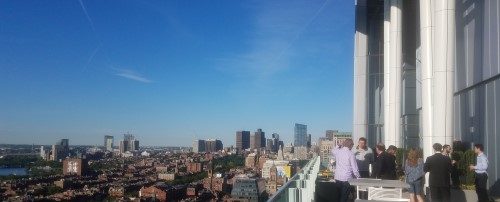 Peter Rothstein, President of the Northeast Clean Energy Council, spoke about the group's efforts to engage decisionmakers, the public, and businesses across the New England states.  NECEC's many resources include an Innovation and Entrepreneurship Program that provides mentors and other resources for startup companies, giving them a boost to succeed and encouraging them to continue developing their products and services.
"This was started by entrepreneurs, for entrepreneurs," said Mark Vasu, Executive Vice-President of Greentown Labs, an incubator in Somerville, MA.  Greentown began out of a garage and has grown to become one of the largest communities  for cleantech innovation in the nation. Vasu discussed how Greentown provides entrepreneurs with lab space and support across the early stages of the business lifecycle.
All of these presenters cited metrics for how their programs are successfully creating jobs and deploying new technologies, supporting economic progress in the northeast.
Building Momentum for the Future
Jim Roach, Senior Vice President for Retirement Strategies at Natixis, offered closing thoughts on the forum. He pointed out that investing in a fund tracking the S&P 500 (one of the most common indices used for passive investment) would essentially be financing a 3.9 degree climate warming scenario. While investor appetite for ESG-aligned funds has grown, these assets still represent less than 1% of fixed income portfolios. Natixis is working to change this by making it easier for investors to align their assets with their values. The firm has introduced the market's first target date ESG 401k, making is easy for employees to set it and forget it, while ensuring that they are investing in a low-carbon future and enjoying strong returns.  As illustrated by the leaders participating in the event, Boston's robust cleantech landscape is making an impact on the local economy and the environmental health of our planet.
###
The Clean Energy Business Network (CEBN) is the small business voice of the clean energy economy, working to enhance opportunities for clean energy providers through policy support, market and technology information, and business development. Started in 2009 by The Pew Charitable Trusts, the CEBN is now a small business division of the Business Council for Sustainable Energy. The CEBN represents 3,000+ business leaders across all 50 U.S. states working with a broad range of clean energy and transportation technologies.