Cost Savings and Comfort are Highlights of Geothermal Site Tour for Congressman Brian Fitzpatrick
September 5, 2018 │Lynn Abramson, President, Clean Energy Business Network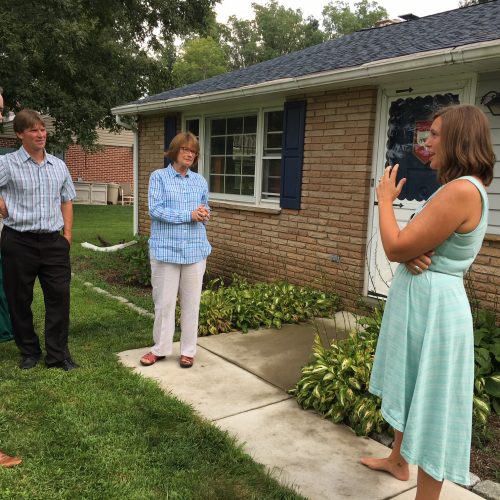 It's the afternoon of Friday, August 17, and AJ Turner and Kirstin Allen stand outside their brick, ranch-style house in Perkasie, Pennsylvania, chatting with their local Congressman.
Kirstin is barefoot on the hot cement walkway. The summer sun is relentless, but 300 feet beneath her toes, the earth is a cool 55 degrees Fahrenheit. The ground absorbs heat from the sun year-round and holds it, maintaining a nearly constant temperature regardless of the weather. This is why Congressman Brian Fitzpatrick (R-PA-8) is here: to see how AJ and Kirstin are harnessing this geothermal heat source to reduce energy costs in their home.
"We have never broken $300 per month on our PECO bill, and we know our parents are paying closer to $400 or $500 per month," AJ tells the Congressman.
Bernadette Schaffhausen, Director at C.W. Cook (and Chris' mother) says, "Geothermal is a real plus for a homeowner, but people just don't know as much about this option because it is not visible like solar panels or wind turbines."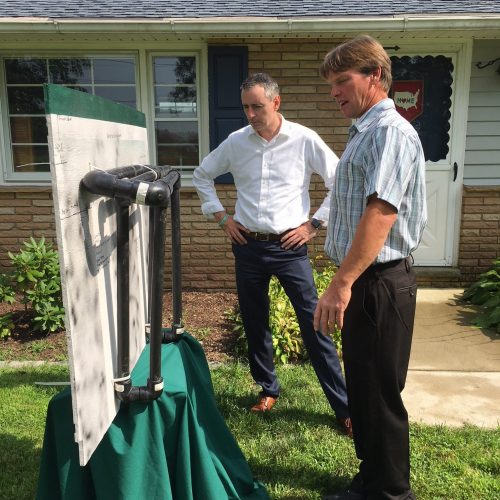 Chris Cook, Owner of C.W. Cook Geothermal and Foundation Drilling (a Clean Energy Business Network member), has set up a demo of the couple's closed-loop geothermal unit on the front lawn. The actual system is buried deep under the earth, so Chris has gotten creative, rigging up a smaller-scale model with PVC pipes mounted on top of a wooden base. He explains how a series of pipes draw up heat from the ground during the winter and draw down heat from the home during the summer.
That's exactly why the Clean Energy Business Network and Citizens for Responsible Energy (CRES) Forum teamed up to arrange this site visit for Representative Fitzpatrick—the first of several tours planned for this fall to educate policymakers about the benefits of clean energy in their districts.
AJ and Kirstin lead Congressman Fitzpatrick inside the house, through a book-lined living room with a buck mounted above the fireplace mantle. When the young couple purchased the home in 2016, they found it was being heated and cooled very inefficiently. The 1960s-era house relied on oil heat and had no air conditioning or duct work. C.W. Cook replaced the oil heat with geothermal and worked with other contractors to manage the HVAC hookup and ductwork. The system pays for itself in roughly 5 to 7 years through reduced utility bills, and AJ says, "It definitely increases the comfort and enjoyment of our home."
AJ shows Congressman Fitzpatrick where the ground source heat pump comes into the utility room and connects with the HVAC system.

Congressman Fitzpatrick is impressed. He says, "The system probably increases your home value as well."Kirstin says, "The system requires minimal upkeep and has some great features like a dehumidifier—which has helped so much during this very humid summer—and an emergency back-up option. It is also very quiet. We don't even have to close the door to this utility room anymore, and it has freed up a huge space in our garage where an oil tank used to be."
Chris and Bernadette tell Congressman Fitzpatrick about some of C.W. Cook's other projects. The 25-year-old family business is based just down the road in Sellersville, also in the Congressman's district. The company has completed projects for residential and commercial clients across New York, Delaware, Maryland, Virginia, and Washington DC, but some of its most notable projects are right at home in Pennsylvania.
C.W. Cook installed a commercial-scale geothermal system for the Philadelphia Zoo in 2013 at the Hamilton Family Children's Zoo & Faris Family Education Center ("KidZooU"). The geothermal system is among a suite of measures that have helped KidZooU attain LEED Gold certification. Other features include daylighting, rain water collection for gray water use, rain gardens and vegetated roofs to reduce water runoff into storm drains, and recycled and salvage building materials.
Bernadette mentions that C.W. once had to briefly halt construction on the zoo project while a tiger moved into a nearby exhibit. Energy developers are accustomed to many factors that require juggling schedules, but a tiger? That's a new one.
C.W. Cook is about to complete a new project at the Defense Logistics Agency (DLA) Installation Support offices in Philadelphia, which assists with DLA's mission of providing food, clothing, supplies, medical resources, and other critical logistical services to the U.S. Armed Forces. The geothermal project will help the DLA offices reduce energy costs and obtain reliable baseload power.
Reducing energy costs is the biggest motivating factor for most of C.W. Cook's customers, like AJ and Kirstin. Chris says, "Geothermal is a great option for homeowners on fixed incomes because there is no fluctuation in energy rates like there would be with fossil fuel prices."
AJ and Kirstin are getting married in November, so that extra cash will sure come in handy.
Acknowledgement: Special thanks to Meredith Montalto of Ceisler Media and Issue Advocacy for representing the CEBN at the site tour and contributing to this report.
###
The Clean Energy Business Network (CEBN) works to advance the clean energy economy through policy, public education, and business support for small- and medium-size energy companies. Started in 2009 by The Pew Charitable Trusts, the CEBN is now a small business division of the Business Council for Sustainable Energy. The CEBN represents 3,000+ business leaders across all 50 U.S. states working with a broad range of clean energy and transportation technologies.