Happy 2nd Birthday to the Clean Energy Business Network
May 1, 2019 | Lynn Abramson and Andy Barnes, Clean Energy Business Network
Here at the Clean Energy Business Network (CEBN), we have much to celebrate on our birthday.
May 1, 2019 marks the second anniversary of our partnership with the Business Council for Sustainable Energy (BCSE). This year also marks the tenth anniversary of our original founding by The Pew Charitable Trusts. So we are either celebrating our second or tenth birthday, depending how you look at it.
Since our transition out of Pew two years ago to become the small business arm of BCSE, we have continued and strengthened our legacy of advancing policies and public education to grow the clean energy economy. Additionally, we have launched new resources to enable businesses to reach new markets and grow.
We are proud to share a few milestones that we have achieved over the past two years in partnership with the BCSE and the more than 3,000 clean energy business leaders across our network.
Click on any words in the infographic below to see a relevant example of our work!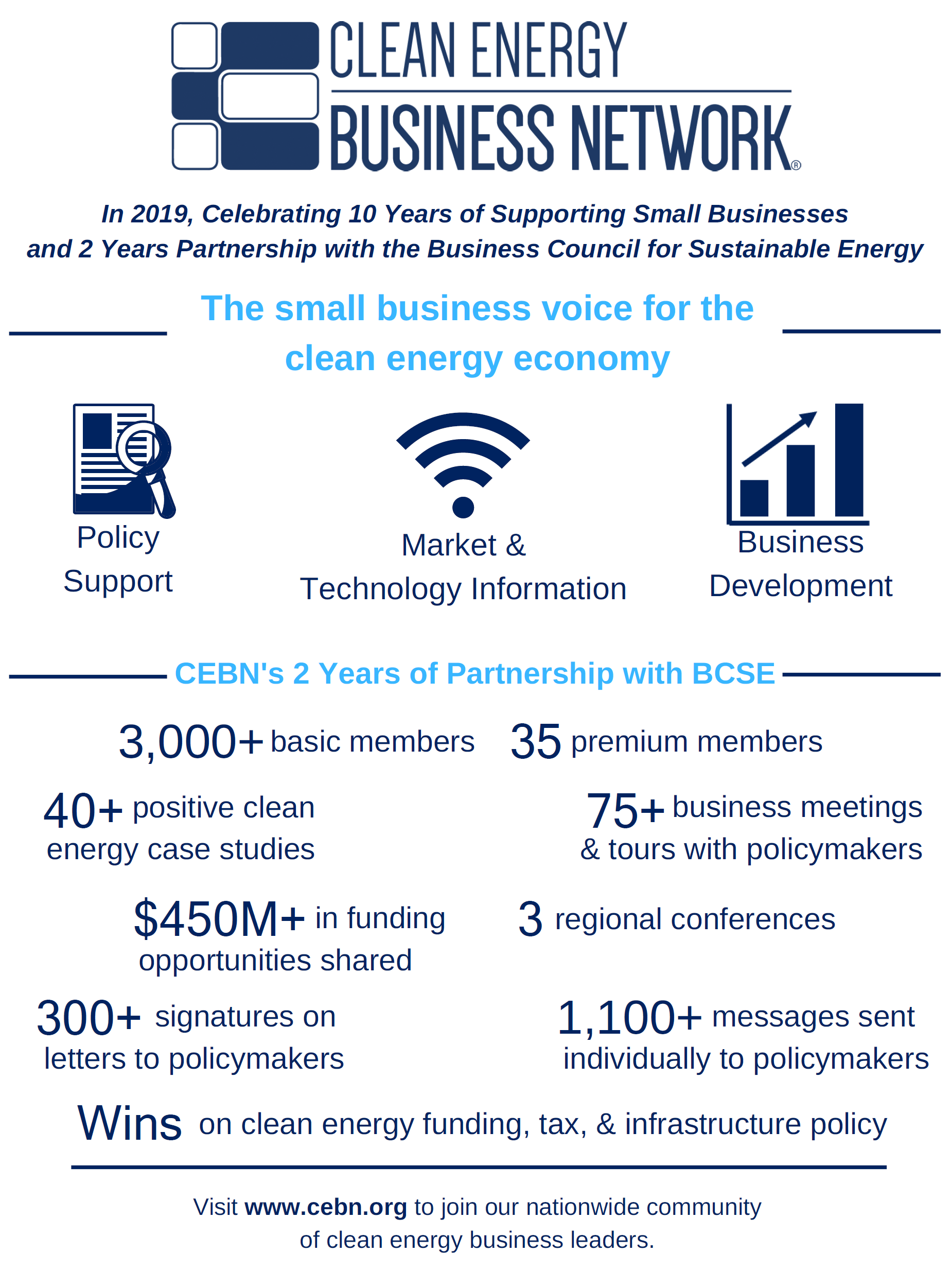 Generous support from premium members, sponsors, and grantors has diversified the organization's revenue sources, putting CEBN on a pathway to financial self-sufficiency. Join as a premium member today to access our tools for business development and insider policy access, or contact us at labramson@cebn.org for information about sponsorship and donation opportunities to advance our mission of supporting small clean energy businesses.
We are delighted by how the partnership between CEBN and BCSE has strengthened the breadth, reach and impact of our organizations. In the years ahead we look forward to continuing our efforts to help small businesses thrive in a growing, global clean energy economy.
Together we are stronger, and, of course, birthdays are all the more fun with friends!
###
Like what we're doing? Amplify this blog post on social media or send it to a colleague or friend that might be interested in the CEBN. Follow our social media platforms below for the latest in clean energy news, events, and market updates.
The Clean Energy Business Network (CEBN) is the small business voice of the clean energy economy, working to enhance opportunities for clean energy providers through policy support, market and technology information, and business development. Started in 2009 by The Pew Charitable Trusts, the CEBN is now a small business division of the Business Council for Sustainable Energy and represents 3,000+ business leaders across all 50 U.S. states and a broad range of clean energy and transportation technologies.