Entrepreneurs Showcase Innovative Technologies Supported by Energy Department
March 13, 2019 | Lynn Abramson, President, Clean Energy Business Network
CEBN members discuss their work and the importance of federal investment in energy innovation
Fourteen energy innovators from the Clean Energy Business Network came to Washington DC March 12-13, 2019 to showcase their innovative energy technologies to federal and state lawmakers. All of these businesses have helped bring new technologies to market through partnerships with the Department of Energy (DOE), Advanced Research Projects Agency-Energy (ARPA-E), and National Laboratories.
These entrepreneurs are working to develop the clean energy technologies that will power America's energy future AND our economy. Fly-in participants met with Members of Congress and their staffs to discuss their companies' work, how the DOE helped advance their technologies, and economic impacts and jobs in their communities. The companies represented at the event were all small businesses with offices, projects, and partners working across a collective 25+ states–and met with more than 50 Congressional offices during their visit.
Timing for the CEBN's fly-in is critical. The same week, the White House released a summary of the President's budget request for fiscal year 2020, which proposed reducing the DOE budget by 11 percent and eliminating ARPA-E. The budget release kicks off Congressional proceedings on the budget and appropriations cycle in consideration of this request.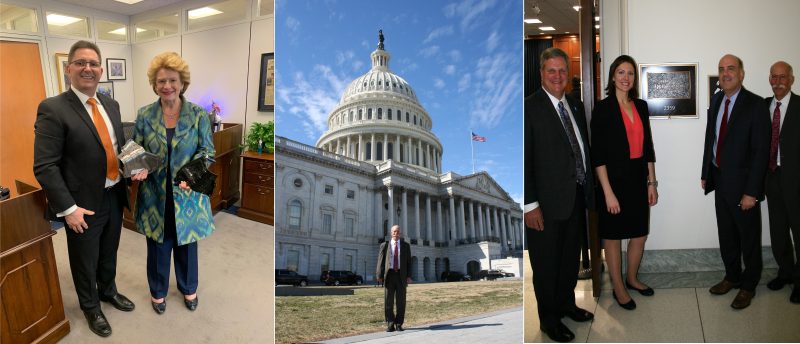 Networking with leaders on innovation and energy policy
The business leaders participating in the fly-in also received a briefing from Mike Boots, Senior Director of Advocacy and Government Relations at Gates Ventures and former Director of the Council on Environmental Quality under the Obama Administration. Gates Ventures is a private think tank/philanthropic organization created by Bill Gates to spur changes in public policy and private investment practices to promote breakthrough developments in low-carbon energy technologies. Periodic updates are available at Gates Notes.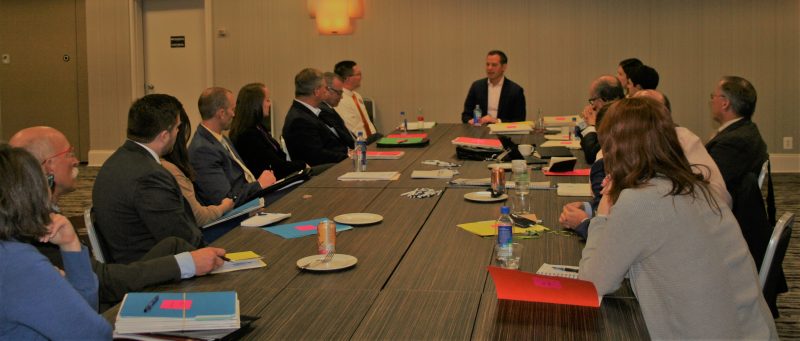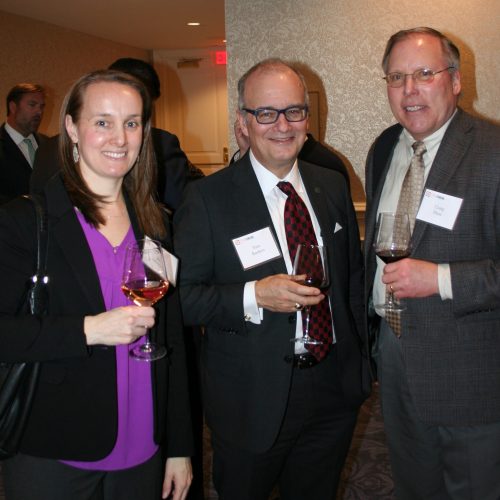 In addition, thanks to the efforts of Citizens for Responsible Energy Solutions (CRES) Forum, fly-in participants also joined a networking reception, enabling the business leaders to share their stories with a range of conservative local and state policymakers, DC Governors' offices, agency officials, and leaders from 12 state chapters of the Conservative Energy Network (CEN). These conservative policymakers and stakeholders were in Washington for a concurrent fly-in organized by CRES Forum and CEN bringing in Republican clean energy advocates and appointed state leaders to speak with Republican members of Congress about local support for the clean energy economy. CEBN members also participated in a handful of joint meetings with CRES and CEN.
Opportunities for all energy innovators to engage
This fly-in is just the beginning of the CEBN's work on energy innovation in 2019. Throughout the year, we look forward to working with all our CEBN members to make your voices heard on critical issues impacting energy innovation. Stay tuned for circulation of our group sign-on letter on appropriations, and if you need assistance completing appropriations request forms for your Members of Congress, we can help you navigate the process. We hope to organize roundtable discussions enabling you to share your views on how the public and private sectors can more effectively support entrepreneurs. And we will provide additional opportunities for you to participate in advocacy and education, network with investors and corporations, and learn about resources to help your company succeed.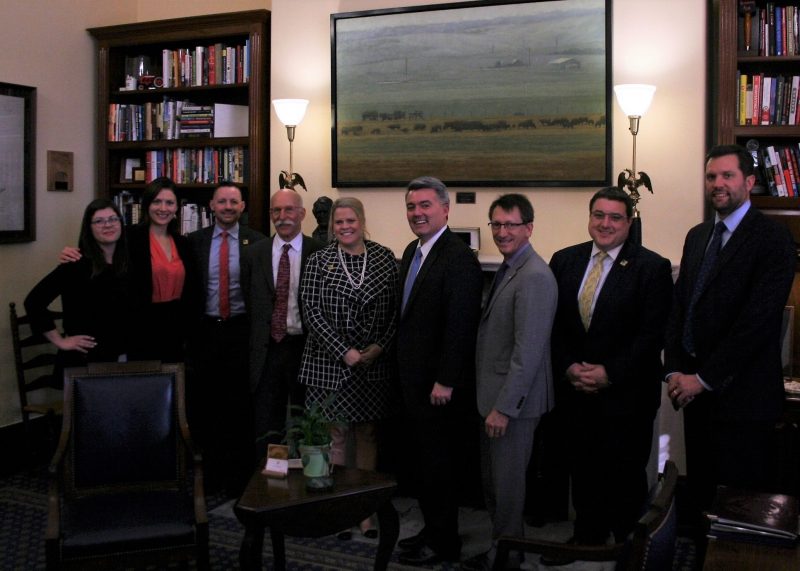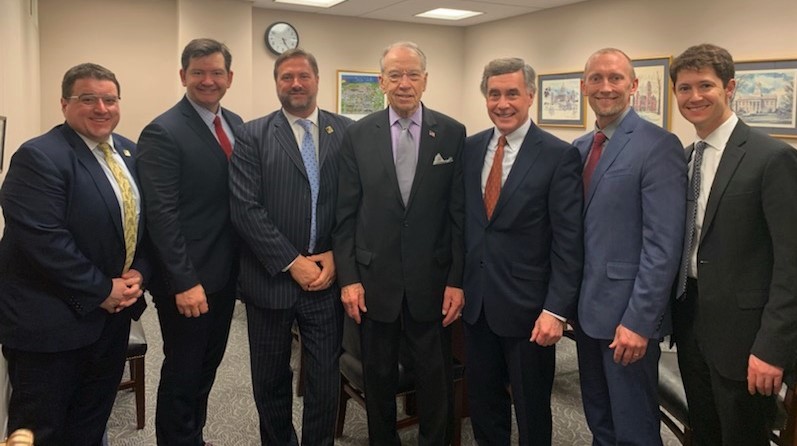 #
Thank you to the following participants for joining our CEBN fly-in on March 12-13, 2019:
Guy Longobardo, Chief Operating Officer
Bettergy | Peekskill, NY | 16 Employees & Consultants

Bettergy is a privately-owned corporation, founded to conceive, develop and commercialize innovative energy and environmental technologies. The company has two areas of focus: advanced battery and fuel cell technologies for energy storage and nanopore engineered membranes technologies, including separation membranes and ionic conductive membranes. The firm is developing a portfolio of clean, safe, low cost, industrial strength energy storage solutions. Bettergy has received two ARPA-E awards, the first in 2013 and the second, which is ongoing, in 2017.  The company has also received four other DOE grants that have assisted with the development of new technologies, and Bettergy's DOE grants total over $3.5 million.
Jim Nash, Engineering Manager/Partner
Brayton Energy | Hampton, NH | 40 Employees
Brayton Energy is committed to research, design and development of power conversion and energy storage systems that solve pressing needs for efficient, stable and cost effective power. The company's work spans from small residential power generation to grid-scale energy storage systems. Since 2012, the company has received grants totaling more than $25 million from the Department of Energy and is currently active on 4 ARPA-E and 3 DOE projects involving innovative solar technologies. The firm also engages several National Labs on subcontract work to assist with its technology development—including the National Renewable Energy Laboratory located in (CO), Argonne National Laboratory (IL), Oak Ridge National Laboratory (TN), and Savannah River National Laboratory (SC). Brayton is also working with MIT on a project.
Jen Derstine, Direct. of Strategy, Policy & Corp. Development
Capstone Turbine Corp. | Van Nuys, CA | 168 Employees & Multiple Distributors
Capstone Turbine Corp. is a midsize microturbine CHP manufacturer that has been awarded $13M+ in DOE funding to help develop its highly efficient and resilient combined heat and power (CHP) and microgrid solutions. The company is headquartered in Van Nuys, CA and works globally, with US distributors located in Massachusetts, New York, Pennsylvania, West Virginia, Florida, Ohio, Minnesota, Texas, Colorado, Utah, New Mexico, California, and Alaska. Its technology can be configured in microgrid applications and has kept clients in the U.S. Virgin Island, Puerto Rico, and Florida operational during hurricanes Maria and Irma.
Tom Ranken, President and CEO
CleanTech Alliance | Seattle, WA | 3 Employees & 300+ Members

The CleanTech Alliance is a trade organization driving clean technology innovation and job growth to advance our economy.  It was founded in Seattle in 2007 and now has 300 members in ten U.S. states and three Canadian provinces. Members represent many different industries, business models, technologies and services all working to create products and services that are better, faster, cheaper, cleaner, and safer.  The CleanTech Alliance can speak to the landscape of energy innovation across the Pacific Northwest and examples of how companies in the region have partnered with the DOE and Pacific Northwest National Laboratory to develop and deploy new technologies.
Gary Cola, President
Flash Steelworks | Washington, MI | 3 Full-time & 2 Part-time Employees

Flash Steelworks (aka Flash Bainite) is the innovator of technology to make steel lighter and stronger, with dramatic potential benefits for fuel efficiency (i.e., vehicle lightness), military applications, and a range of other beneficial uses. The company is based in Michigan's Lower Peninsula and has worked with Oak Ridge National Laboratory in Tennessee to help develop the technology, with support from (5) DOE SBIR I, II, and III awards. The firm is now at the commercial stage, and currently in discussions about building its first processing facility in Kentucky, making use of the infrastructure and railroads that have historically supported the coal industry. In 2017, the company was recognized as DOE's SBIR Small Business of the Year.
Jerod Smeenk, CEO
Frontline Bioenergy | Ames, IA | 10 Employees

Frontline Bioenergy is a technology and project development company that specializes in conversion of biomass and waste-based feedstocks into value energy, fuels, and chemicals. The firm applies innovative gasification solutions for renewable energy, renewable fuels, and renewable products including renewable natural gas, renewable methanol, Fischer-Tropsch liquids, renewable electricity, and renewable heat—which are now available for implementation at industrial scale. The company received a Department of Energy grant to develop a pilot biomass-to-jet/diesel fuel plant using an innovative gasification and Fischer-Tropsch process, based on Frontline's patented gasification technology.  Partners on the grant included Stanley Consultants (Muscatine, IA), SGC Energia (Houston, TX), and Delphi Engineering and Construction LLC (The Woodlands, TX). Separately, the company is developing an estimated $130 million renewable natural gas project near Bakersfield in the San Joaquin Valley of California.
Kay Aikin, CEO
Introspective Systems | Portland, ME | 10 Employees
Introspective Systems helps enterprises manage complex systems, in the energy sector develops distributed grid management software. One of the company's DOE grants was for a project to help small electric grids reallocate resources based on price triggers. Additionally, the company received a DOE grant to assist in monitoring and managing enhanced geothermal systems (EGS). The firm is currently developing an advanced microgrid solution for all microgrid phases Design, Optimizing and Deployment. When complete, this solution will enable parts of the electric grid to break away from the broader grid at any level to create independent islands, improving security and reliability while limiting chain-reaction outages. The solution will also accommodate multiple distributed energy resources, effortlessly blending traditional and renewable loads and enabling customers to take advantage of cost savings from real-time pricing that conserves resources and rewards efficient energy use. The company has been awarded over $3.5 million in DOE and other government funding.
Dave Karpinski, Vice President of Operations
The Lake Erie Energy Development Corporation | Cleveland, OH | 4 Employees

LEEDCo is a non-profit, public-private partnership behind the construction of Icebreaker Wind—the first freshwater offshore wind farm in North America. Icebreaker Wind is a 6-turbine, 20.7-megawatt offshore wind demonstration project 8 miles from downtown Cleveland in Lake Erie. The DOE has provided more than $50M in awards towards the project, leveraging significant local and private capital to develop innovative technology solutions to advance the offshore wind industry as a whole. The project has recently advanced through significant approval milestones, in partnership with the local community.
Mitch Odinak, Chief Commercial Officer
Molecule Works Incorporated | Richland, WA | 8 Employees
Molecule Works is the innovator of a novel ammonia liquid fuels technology. The company was originally founded based on technology licensed from Pacific Northwest National Laboratory and has since received $2.4M+ in ARPA-E and SBIR awards to support further R&D. Products under the Molecule Works portfolio include porous metal sheet, thin-sheet zeolite membrane, and flat-plate membrane module inventions.
Webb Johnson, Sr. Director Business Development
Pajarito Powder | Albuquerque, NM | 10 Employees

Pajarito Powder enables the next generation of electric propulsion for heavy duty applications, cars, buses, trucks, trains, and ships – with advanced electrochemical catalyst materials for hydrogen fuel cells developed and manufactured in the United States and exported internationally. Our customers are *almost* every major automaker in the world with a fuel cell program; automakers understand scaling and how to drive down costs, enabling other broader applications of fuel cells. The company's customers include almost every major automaker in the world with a fuel cell program; these partners understand scaling and how to drive down costs, enabling other broader applications of fuel cells.
Craig Husa, CEO, SuperCritical Technologies & Impact Bioenergy | Bremerton, WA and Auburn, WA | 14 Employees

SuperCritical Technologies builds compact turbine generators that use supercritical CO2 in place of steam. At about 1/100th the size of the equivalent steam turbine, this technology opens up potential applications in small-scale biomass plants, waste-to-heat power, and remote power generation. The underlying technology was developed at Sandia National Laboratory. CEO Craig Husa also serves at the helm of Impact Bioenergy, a manufacturer of commercial-scale, modular bioenergy systems that profitably convert food waste into renewable natural gas and probiotic plant food with zero-waste.  Impact's bioenergy systems are sized to process food waste from 25 tons/year to 1,500 tons/year for customers including large restaurants, corporate and educational campuses, casinos, and food processors.
Ted Sorenson, CEO and Miriah Elliott, Director of Business Operations
Sorenson Engineering | Ivins, UT | 25 Employees

The Sorenson family owns and operates several low-impact hydropower plants throughout the Western United States, many of which have been supported with grants from the Department of Energy's Section 242 Hydro Incentive Program. These hydropower projects are providing affordable, local power and boosting economic development and jobs in communities across the West. The family resides in Utah and Idaho, and owns or is acquiring projects in Alabama, California, Colorado, Idaho, Montana, Oregon, Washington, and Wyoming.
Kyler Stitt, Vice President, Engineering
Sustainable Energy Solutions | Orem, UT | 15 Employees
Sustainable Energy Solutions is an engineering firm designing innovative technologies for carbon sequestration, natural gas treating, and efficient heat exchangers. The company's flagship technology, Cryogenic Carbon Capture (CCC), was developed with support from several DOE and ARPA-E awards and is now being demonstrated at various locations, including Brigham Young University in Utah and the Dave Johnston Power Plant in Wyoming. Cryogenic Carbon Capture is a novel process for eliminating most carbon emissions from fossil fuel-based power production at half the cost of current carbon sequestration technologies. CCC can also enable a power plant to reschedule parasitic loads to times when demand is low or intermittent renewable energy sources are available, essentially acting as a type of energy storage. In 2015, MountainWest Capital Network named SES among Utah's 100 fastest growing companies.
Nalin Kumar, President
UHV Technologies | Fort Worth, TX | 20 Employees
UHV Technologies, aka nanoRANCH, is a 25-year-old high technology R&D small business with expertise in nanotechnology, advanced materials, devices, and equipment manufacturing, as well as industrial applications of artificial intelligence. Currently UHV has two grants from ARPA-E, including a 5 year METALS project that has developed and commercialized an X-ray and artificial intelligence technology that can cost effectively sort light metal alloys used in cars to increase fuel efficiency, strength, and economic value. This low cost, high throughput (30-100 million lbs/yr per sorter) technology will potentially disrupt the current practice of collecting & shipping US metal scrap (~4 billion lbs/yr) to other countries to be hand sorted, thereby enabling recycling of all this metals for use in domestic manufacturing resulting. This will result in enormous energy savings in addition to generating billions of dollars of additional revenue which is currently lost to off-shore recycling companies. Currently, UHV is in the process of setting up an industrial scale recycling facility capable of recycling 200 million pounds of metal scrap per year. A second ARPA-E project is developing an innovative stationary CT scanner for in-situ imaging of roots necessary for developing next generation energy related plants. In addition, UHV has won 4 DOE SBIR grants to develop and commercialize various nanotechnology devices and products. The total DOE funding received by UHV exceeds $8 million over the last 5 years.
###
The Clean Energy Business Network (CEBN) works to advance the clean energy economy through policy, public education, and business support for small- and medium-size energy companies. Started in 2009 by The Pew Charitable Trusts, the CEBN is now a small business division of the Business Council for Sustainable Energy. The CEBN represents 3,000+ business leaders across all 50 U.S. states working with a broad range of clean energy and transportation technologies.