Where Oil Meets Water, a Community Embraces Clean Energy
November 22, 2019 | Lynn Abramson, President, CEBN
Flying in over Corpus Christi, Texas, you can see the glittering green-blue water of the Gulf of Mexico along a sandy shoreline. The coast is dotted with modern hotels, shimmering office buildings—and the exhaust stacks of dozens of oil refineries.
"Welcome to Corpus Christi, where the oil meets the water," said Nueces County Judge Barbara Canales, opening the CEBN Power Circuit—Corpus Christi forum November 13, titled "Clean Energy Solutions for Industrial Economies."
Sean Strawbridge, CEO of the Port of Corpus Christi, welcomed attendees in a reception the evening before the forum. He noted that the Port is the third-largest in the nation in terms of total revenue tonnage. Dubbed the nation's "energy port," it is the second largest exporter of crude oil, processes more than 3,000 large wind turbine components per year, and is developing new liquefied natural gas (LNG) export terminals.
Nueces County and the Port invited CEBN to co-host this forum to help the local community and industry explore the portfolio of clean and efficient energy solutions to power the region's economy. More than 60 attendees joined the conversation, representing the Port, County, economic development agencies, oil and gas companies, clean energy businesses, and environmental regulators. While many of the participants were based in Texas, some hailed from Minnesota, Florida, and California.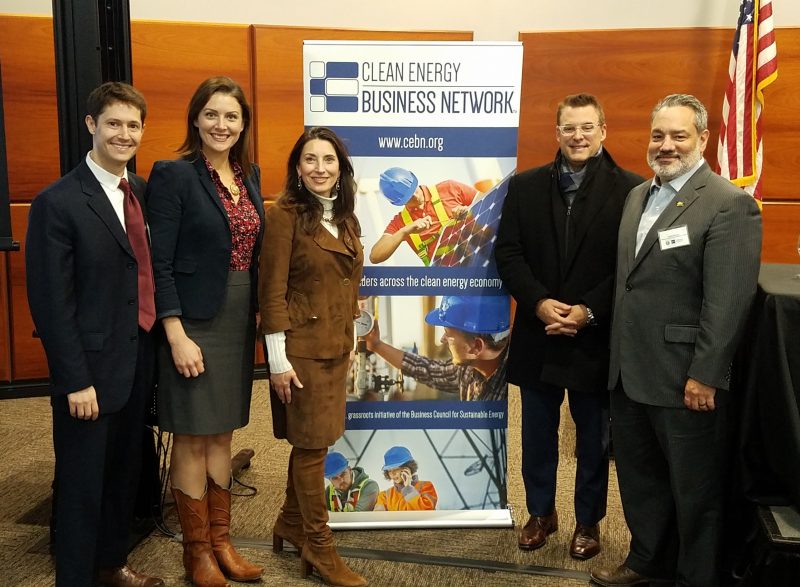 Lynn Abramson, President of the CEBN, noted that "Over the past decade, our nation's energy use and growth in gross domestic product have largely been decoupled, thanks to advances in energy efficiency and clean energy. But industrial sector emissions have continued to increase, rising 4 percent from 2018 to 2019. Addressing energy-intensive industries is a tricky problem—but a solvable one."
The Port of Corpus Christi is ground zero for this type of industrial growth. "Since 2009-2019, we've seen $52 billion in industrial projects either completed or underway in Corpus Christi metro area," said Ian Vasey, President of the Corpus Christi Regional Economic Development Corporation. "To put that in perspective, according to Conway Data, the region would rank eighth as a state, behind Georgia and ahead of North Carolina."
But as development continues to expand, the Port needs to continually innovate to remain in attainment—and over the long-term, reduce emissions of pollutants and greenhouse gases. In addition to air quality and climate change, achieving energy resilience and reliability is another key driver of interest in clean energy solutions.
Panelists focused on a slough of approaches the industrial sector is exploring to reduce emissions, improve reliability, reduce costs, and grow new energy industries.

Speakers discussed projects featuring a range of unlikely partnerships and innovative ideas. For example, Valero is using wind turbines to power an oil refinery. Advanced Environmental Group is deploying its emissions control technology on idling cargo ships in the Port of Long Beach, California. The Port of Corpus Christi is developing or considering a range of environmental projects, including desalination to reduce industrial freshwater use and geothermal energy to power operations. Gulf Coast Green Energy is using waste heat to power systems to capture flare gas off oil fields and pipelines. CenterPoint is working to incorporate renewable natural gas (RNG) from waste water treatment plants, landfills, and organic waste into gas supplies for its customers. And Shell is on a quest to invest not only in currently-available clean energy solutions but also sleuth out the "black swan" technologies of the future that aren't yet on anyone's radar.
Policy and market drivers are key to shaping how these changes in our nation's energy mix unfold. Stable federal and state policies to reduce emissions are important. Panelists discussed that these policies do not always have to come in the form of regulation: other approaches can include public-private partnerships, incentives, and government-led efforts to bring communities together to develop short- and long-term environmental goals.
Corporate procurement is growing, especially in Texas where companies Amazon, Google, Exxon, and General Motors all have long-term agreements to buy wind power both to keep costs low and meet sustainability goals. But many of the more innovative, riskier projects and emerging technologies still face significant obstacles in attracting equity investment or project capital. Companies such as Nexus PMG and nonprofits such as EPIcenter and Austin Technology Incubator are working to address that gap and pull together the right partners to bring cutting-edge clean energy projects to market.
As articulated by Kyle Brzymialkiewicz, Vice President at Element Markets, setting the stage for continued emissions reductions requires "an educated and engaged community…creating dialed-in regulations that support a market instead of regulations no one understands," along with "people behind the policies—with buy-in from high level leadership and implementing staff," and finally, "clearcut customers."
Donna Huff, Director of the Air Quality Division at the Texas Council on Environmental Quality, also highlighted the importance of collaboration. "It's best when we can make the community aware of an air quality situation and bring everyone to the table to work out a solution before an area becomes non-attainment."
Bringing everyone to the table is exactly the goal that Nueces County, the Port of Corpus Christi, and the Clean Energy Business Network set out to achieve with this forum.
#
View the event program for a list of speakers and attendees.
Read a Corpus Christi Caller-Times oped on this topic published Nov. 8, 2019 by Nueces County Judge Barbara Canales, CEBN Board Chairman James Jackson, and CEBN President Lynn Abramson.
CEBN appreciates the support of the following Power Circuit partners and sponsors who made this event possible!