We Can't Take America's Energy Innovation Leadership for Granted
May 3, 2018 | Laura Thompson, Vice President, Flow Energy
Flow Energy Washingtonians are driven by our ideals, ingenuity, and desire to innovate. This is the spirit that brings us together to tackle our state's most pressing challenges and what inspires us to build a better future for our next generation.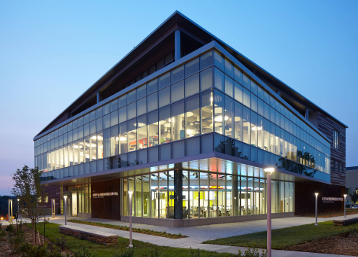 Today, we're called to take responsibility for our nation's future energy needs. By the middle of this century, the world will use twice as much energy as it does today, and the countries that have a reliable and affordable clean energy supply will be the strongest and most secure. For America to keep its economic and competitive advantage over countries like China and Russia, we must invest in energy innovation—and the entrepreneurs and small businesses advancing it.
National Small Business Week is an important reminder of the critical role our nation's small businesses have in powering our nation's work in energy innovation. This sector employs hundreds of thousands of Americans across the country. Like me, many of those individuals work for small businesses. In fact, the majority of the 1.9 million energy efficiency workers in the U.S. work for small businesses with five employees or less, and about 70 percent work for companies with 10 employees or less.
As of 2016, there are just under 39,000 jobs related to energy efficiency right here in Washington. We need continued investment in Washington's energy innovation sector to ensure that number grows even larger in the coming years.
My company, FlowEnergy, located in Woodinville, is one of the many small businesses working to solve our nation's energy innovation needs. We work to find solutions to make buildings in Washington and throughout the country more energy efficient, cost effective and comfortable.  For instance, in New York City we were selected by the Department of Citywide Administrative Services (DCAS) as one of the technologies for the 3rd phase of the IDEA program and have just successfully completed our first project at the Manhattan Civil Courthouse. Our platform uses a unique blend of hardware, software and data to deliver an energy intelligence platform that reduces energy demand for heating and cooling, resulting in significant cost savings, lower infrastructure demand and a positive impact to the environment.
After seeing the impact of FlowEnergy's products firsthand, I knew I had to help get the technology out to a broader market and help establish a new standard for sustainability best practices. But as I help FlowEnergy expand to new markets, I see the clear need to help other small businesses within energy innovation thrive. Many of them employ talented individuals with innovative ideas they want to bring to market, but they don't have the financial means to do. However, through strategic investment and support from public programs, these entrepreneurs can bring a fresh perspective to commonly-held practices and views, sometimes unearthing new, more efficient methods of operating.
Funding for energy innovation and small businesses must continue at the local, state and federal level if we want to see more success stories like FlowEnergy, and to ensure America's leadership in energy innovation. Programs like the Small Business Innovation Research (SBIR) and Small Business Technology Transfer (STTR), through the DOE's Office of Energy Efficiency and Renewable Energy (EERE), help companies thrive by investing in small businesses' research and development in energy technologies, and encourage commercialization. These programs are often the boost a small business needs to bring the next big idea in energy innovation to reality, as many don't have the budgets to build technologies on their own and get them across the gap.
We've seen the positive impact of long-term U.S. investment in small businesses and energy innovation. For example, from 1976 to 1983, DOE invested roughly $2 million into researching low-emissivity windows that better insulate buildings. By the mid-1980s, industry investment into these windows had grown to $150 million. By 2000, these windows saved Americans more than $8 billion.
We can't take America's energy innovation leadership for granted, nor can we ignore the small businesses that helped get us there. To make sure Washington's small businesses continue to pave the way for our clean energy future, support for public-private partnerships in energy innovation and research is critical—not just during National Small Business Week but every week.
###
The Clean Energy Business Network (CEBN) works to advance the clean energy economy through policy, public education, and business support for small- and medium-size energy companies. Started in 2009 by The Pew Charitable Trusts, the CEBN is now a small business division of the Business Council for Sustainable Energy. The CEBN represents 3,000+ business leaders across all 50 U.S. states working with a broad range of clean energy and transportation technologies.