Community Clean Energy Coalition Prize Summit
December 06 | 2023
To
December 07 | 2023
Atlanta University Center | Atlanta, GA
Meet the coalitions creating change in communities across the U.S.!
The Community Clean Energy Coalition Prize Summit will celebrate opportunities to create a just, diverse, equitable, inclusive, and accessible clean energy economy in communities across the United States. Taking place December 6-7, 2023, at the Atlanta University Center—a consortium of three leading HBCUs—the Summit will showcase the 10 winning teams of the Clean Energy Community Coalition Prize, awarded by the U.S. Department of Energy (DOE) to community-led initiatives working to address local clean energy challenges or inequities in alignment with the goals of the White House's Justice40 Initiative.
A broad range of stakeholders—including community organizers, government leaders, advocates, philanthropists, innovators, investors, students, and other changemakers—will come together in dialogues to promote knowledge-sharing and collaboration on strategies to advance an inclusive, equitable clean energy future.
The event is free, open to the public, and will offer ample opportunities to  network with the teams and other attendees. Registration is available for one or both days.
***
Livestream:
***
Agenda:
Summarized below – view detailed program and speakers here.
December 6 (12:30 – 7:30 pm ET): Stakeholder Workshops and Public Networking Reception
Day one of the event will include presentations and participant roundtables to promote knowledge-sharing on solutions to promote more equitable clean energy economic opportunities, such as Justice40-related federal funding opportunities through the American-Made prizes and other DOE programs; strategies for engaging diverse stakeholders and decision-makers in the planning process; and identifying clean energy technology and finance solutions.
December 7 (9:00 am- 4:45 pm ET): CCEC Team Showcase/Public Pitch Competition
On day two, 10 winning CCEC Prize teams will compete for additional cash prizes and publicly showcase the work they have accomplished over the past year as well as their plans for the future. Leaders from federal and local government, academia, and nonprofits will also share their vision for achieving a robust, equitable clean energy future. Ample networking opportunities will be provided between pitches for audience members to converse with teams and other attendees.
***
Public Networking Reception
December 6 from 5:30-7:30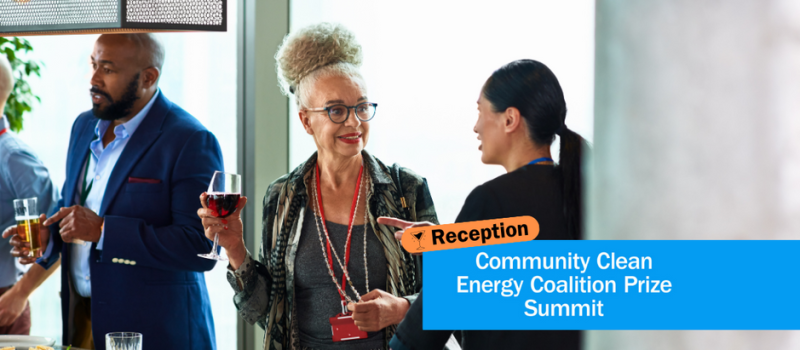 White Oak Kitchen & Cocktails 
270 Peachtree St, Suite 100, Atlanta, GA 30303
Clean energy changemakers and environmental justice advocates are invited to join us on December 6 as part of the CCEC Summit for a public networking reception to network and celebrate opportunities to create a just, diverse, equitable, inclusive, and accessible clean energy economy across the United States. The reception will be held at White Oak Kitchen & Cocktails, at the corner of Peachtree and Baker streets in downtown Atlanta, with hors d'ouevres and wine, beer, and soft drinks provided.
Just like the summit, the reception is free and open to the public, but registration is required due to limited space. Please register now to secure your spot.
Thank you to our reception sponsor, the Business Council for Sustainable Energy!
***
Thank you to our sponsors for making this event possible!
Additional sponsorship opportunities are available for our Networking Reception and Pitch Competition. We also welcome non-financial promotional partners who can help amplify the event.
***
Thank you to our promotional partners for spreading the word about this event!
***
The Clean Energy Business Network (CEBN) is a nationwide nonprofit organization that is working alongside DOE to support the competitors and organize the CCEC Summit. Learn more about our organization and check out our U.S. Cleantech Funding Database.