Happy Birthday to the Clean Energy Business Network!
May 1, 2018 | Lynn Abramson, President, Clean Energy Business Network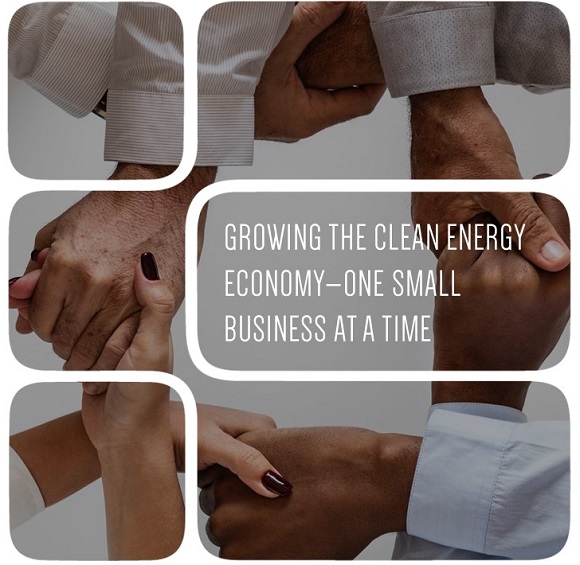 One year ago, I said goodbye to all my colleagues and friends at The Pew Charitable Trusts and packed up some boxes of old reports sitting under my desk. The Clean Energy Business Network (CEBN)—and I—were moving a few blocks away to the offices of the Business Council for Sustainable Energy (BCSE), a 25-year-strong coalition of leading trade associations and corporations working across the energy efficiency, renewable energy, and natural gas sectors. The CEBN was formally incorporating as its own organization, serving as an independent "small business" arm under the umbrella of the BCSE. Working together, our organizations were ready to create a stronger, more unified voice for the clean energy industry.
Although the CEBN was founded by Pew in 2009, today marks our first birthday as an organization in our own right and the anniversary of our partnership with the BCSE. And it just so happens that the timing for this milestone corresponds with National Small Business Week, when the nation celebrates the entrepreneurial and pioneering spirit of small businesses across the country.
It has been an inspiration to work alongside the business leaders in our network who are creating a cleaner, more reliable, more affordable energy future for the United States. And the fact that they are mostly small businesses is what I appreciate the most about them. Whether they are established providers seeking to grow new market opportunities or early-stage innovators trying to develop disruptive technologies, there's something truly optimistic about all these companies. They represent the promise of a better future.
I have never more strongly identified with our members' experiences as small business leaders than over this past year. Although the CEBN is a nonprofit organization rather than a business, we are entrepreneurs in many ways, as a small team with a tight budget working to achieve an ambitious vision. There have been new situations to navigate and times when we've wondered, "Okay, how do we go about this? Who do we call to get suggestions?"
My vision for the CEBN is to be the "Who do we call?" for small- and medium-size clean energy businesses. Our organization serves as a one-stop-shop to help these companies navigate what resources are already available, build new tools where gaps exist, and maximize our members' potential for success. We do not just accomplish this through our staff alone, but by leveraging the collective knowledge and experience of our membership as a whole.
We are already serving as a resource that doesn't exist elsewhere for small energy businesses. This first year, we've helped more than 200 members connect with policymakers about issues impacting market opportunities for their businesses; publicly shared the stories of 42 members to promote greater awareness and support for clean energy; launched new content on business development and legal topics; and began developing a new Funding Database and platforms to help members connect with prospective investors, partners, and clients.
I look forward with great anticipation to see where the significant momentum we have already generated will take us. We have reached a critical mass of important voices of small and medium-sized business leaders that can speak up and vouch for the value clean energy brings to the economy–but I believe this is only the start of what the CEBN can become.
Like the small businesses in our membership, I'm optimistic about our future. Because even the biggest businesses started small once.
#
Highlights from the CEBN over the past year:
150 new members added
200 members responded to member questionnaire, and 50 engaged in Advisory Committee discussions, resulting in a new Strategic Plan and establishment of CEBN Board of Directors
2 conferences/fly-ins convened in Washington DC, along with involvement in 6 state events and launch of a new CEBN regional event series in spring 2018
42 member case studies, member news updates, and Faces Behind the Facts profiles published
200 business leaders engaged in communications and meetings with policymakers, with emphasis on federal appropriations, tax policy, and grid infrastructure
42 newsletters and 86 sector or geographic-specific updates/invitations sent to members
25 blog posts, 8 webinars, and 2 podcast episodes offered to share information with members and the public
400 new Twitter followers and 100 LinkedIn followers secured
Dozens of funding opportunities shared with members
###
The Clean Energy Business Network (CEBN) works to advance the clean energy economy through policy, public education, and business support for small- and medium-size energy companies. Started in 2009 by The Pew Charitable Trusts, the CEBN is now a small business division of the Business Council for Sustainable Energy. The CEBN represents 3,000+ business leaders across all 50 U.S. states working with a broad range of clean energy and transportation technologies.