How the 2018 Midterm Results Could Impact Clean Energy
Updated November 29, 2018 | Ruth McCormick, Director, State and Federal Affairs, the Business Council for Sustainable Energy and Andy Barnes, Program Manager, Clean Energy Business Network
Updated 11/29/18
On Tuesday, November 6, 2018, voters decided the fate of 435 seats in the U.S. House of Representatives, 35 seats in the U.S. Senate, 36 Gubernatorial races, and many state and local races in the 2018 Midterm Election. For a breakdown of results, download the CEBN's election tracker spreadsheet.
The Big Picture in Congress
As expected, there are numerous new members of Congress heading to Washington. Democrats will pick up 40 seats in the House, more than the 23 they needed to regain control. With all races called, the final balance of power is 235 Democrats to 200 Republicans in the House of Representatives. With Democratic gains in the House, committees and leadership will be reorganized. Many of those leadership decisions may not be finalized until mid-December. House Republicans have voted to elect Kevin McCarthy (R-CA) as their Minority Leader.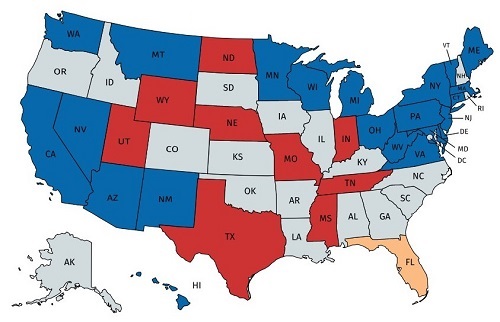 Republicans have won enough seats in the Senate to retain control of the upper chamber. With the Florida recount concluded and a run-off in MS completed, Republicans have secured a net gain of two seats, ousting four incumbent Democratic Senators and losing two incumbent Republican seats. These changes have strengthened the Republican majority to 53 seats, compared to Democrats' 47. Mitch McConnell (R-KY) will maintain his Majority Leader roll in the Senate while Democrats reelected Chuck Schumer (D-NY) as the Minority Leader in the upper chamber.
The election results ensure that progress on any issue, including energy policy, would require both chambers of Congress and the Administration to work together.
Nancy Pelosi is expected, but not guaranteed, to be elected as Speaker of the House, a position she last held 8 years ago. Will a divided Congress and President spell more gridlock? Not necessarily: When Pelosi last held the Speaker gavel during the George Bush Administration, Congress enacted the Energy Independence and Security Act of 2007, one of the most significant energy bills ever signed into law.
Congress can be expected to focus in a number of areas, including health care, infrastructure, immigration, and House oversight hearings to keep a check and balance on the Administration. The lame duck Congress or 116th Congress will need to tackle several outstanding appropriations, tax policy, and Farm Bill issues relating to energy.
House Committee Changes
The House Energy and Commerce Committee will see big changes in the 116th Congress, with a new Chairman, Frank Pallone (D-NJ) and more than a third of committee seats filled by new members.
There will likely be a reinstatement of the House Select Committee on Climate Change, which will not be a legislative committee, but would give Democrats the platform to hold numerous messaging hearings on climate change.  The Select Committee could serve as a platform for Democrats to make good on their campaign promises to focus on climate change without interfering with the Chamber's ability to get things done.
A number of Republicans on the bipartisan House Climate Solutions Caucus lost their elections, including Caucus Co-Chair Carlos Curbelo (R-FL), and nine other Republicans who were members of the Caucus. The Climate Solutions Caucus is not a formal venue for advancing legislation but has served as a place for Republicans and Democrats to come together on climate issues.
Nita Lowey (D-NY) is in line to take the helm of the Appropriations Committee, which controls spending allocations for federal programs.
Richard Neal (D-MA) is expected to take the helm of the Ways and Means Committee, which handles tax policy. A number of members have lost their re-election bids, which will result in significant changes in membership. The Committee is reportedly planning to establish a new Infrastructure Subcommittee to work on advancing infrastructure legislation.
The House Natural Resources Committee can also be expected to consider infrastructure as it reviews policy changes on permitting. Raúl Grijalva (D-AZ) is expected to rise to Chairman of the Committee. Finally, the Transportation and Infrastructure Committee will likely be chaired by Peter DeFazio (D-OR).
Senate Committee Changes
In the Senate, Dean Heller (R-NV) who has supported clean energy, particularly with respect to tax policy, lost his re-election bid. Other Senators that have engaged in energy policy who lost their re-election bids include Bill Nelson (D-FL), Heidi Heitkamp (D-ND), and Claire McCaskill (D-MO).  Of note, former Presidential candidate Mitt Romney won election in the state of Utah.
There will be fewer, but some, changes in committee makeup in the Senate. Of particular interest is Chuck Grassley (R-IA), who is expected to assume the chairmanship of the Senate Finance Committee, replacing retiring Chairman Orrin Hatch (R-UT). Tax policies for biodiesel fuels have been a priority for Senator Grassley.
Lisa Murkowski (R-AK) will remain chair of the Energy and Natural Resources Committee, and Senator John Barrasso (R-WY) will continue to lead Environment and Public Works.
State Elections
Democrats picked up gubernatorial seats in seven states (Illinois, Kansas, Maine, Michigan, Nevada, New Mexico, and Wisconsin), while Republicans held onto the Governor's mansion in several other battleground states and picked up a new seat in Alaska (formerly Independent).
Several clean energy and climate policies were on the ballot for constitutional amendments in states. Two significant proposals that failed included a carbon tax in Washington State and a 50% by 2030 renewable portfolio standard in Arizona. Meanwhile, Nevada voters passed a ballot measure to increase the state's renewable energy mandate to 50% by 2030 while rejecting a proposal to implement competitive retail energy markets.
Voters also rejected a Colorado ballot measure to impose restrictions on oil and gas fracking and a California measure to repeal a recent gas tax increase, while passing a Florida proposal to ban offshore drilling in state waters.
The CEBN will continue to keep members posted on the outlook in late 2018 and early 2019 for significant policy issues impacting clean energy markets.