New Portal for Sustainable Energy Commitments Launches on Earth Day
April 25, 2018 | Lynn Abramson, President, Clean Energy Business Network
The U.S. Climate Action Contribution portal can be a resource for clean energy customers and providers alike.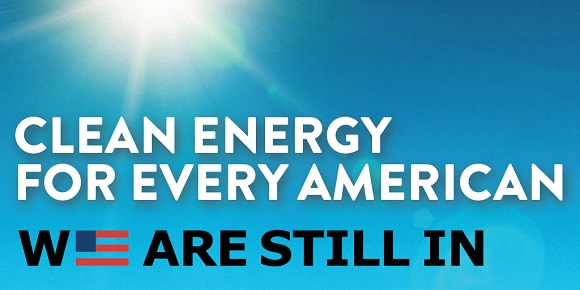 Launch of the U.S. Climate Action Contribution Portal
The "We Are Still In" campaign is a joint effort of more than 2,700 mayors, governors, business leaders, college and university presidents, investors, and other non-federal entities who have committed to taking action to address climate change. On Earth Day—April 22, 2018—the coalition launched a new initiative to highlight existing steps to reduce greenhouse gas emissions and spur additional commitments from the public and private sectors ahead of the Global Climate Action Summit in San Francisco this September. The U.S. Climate Action Contribution portal is a new resource to document existing efforts on climate change/sustainable energy, provide a platform for new commitments, and share suggested tools, resources, and opportunities for collaboration across sectors.
CEBN's Involvement & Opportunities for Clean Energy Providers to Engage
The Clean Energy Business Network is part of a small group of organizations that worked to draft suggested sustainability commitments for small- and medium-size enterprises (SMEs). These recommendations range from very robust commitments involving ambitious renewable energy and efficiency goals, to very simple actions SMEs can undertake to reduce their environmental footprint even when they are leasing office space and have limited control over energy infrastructure. The CEBN encourages clean energy providers and customers alike to take a look at the U.S. Climate Action Contribution portal to explore ways to highlight your existing sustainability commitments and identify further steps you can take.
Additionally, the CEBN is working with other non-profit organizations to compile additional technical resources to assist communities and businesses interested in using clean energy. These may include some webinars, technical dialogues, or networking with local clean energy providers. Please stay tuned for opportunities!
###
The Clean Energy Business Network (CEBN) works to advance the clean energy economy through policy, public education, and business support for small- and medium-size energy companies. Started in 2009 by The Pew Charitable Trusts, the CEBN is now a small business division of the Business Council for Sustainable Energy. The CEBN represents 3,000+ business leaders across all 50 U.S. states working with a broad range of clean energy and transportation technologies.