Open for Business: Tap into the United Kingdom's Clean Energy Opportunities
November 14, 2018 │Cristina I. Pirela, International Trade & Investment Associate, UK Department for International Trade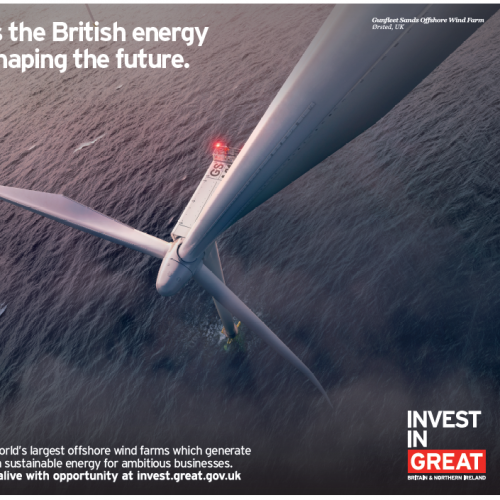 There has never been a better time to invest in the emerging energy ecosystem in the United Kingdom. Over the past several decades the UK has made tremendous progress in decoupling greenhouse gas emissions from economic growth: since 1990, the UK has cut emissions by 40% (faster than any other G7 nation) while growing its economy by two-thirds. And with a commitment to reduce greenhouse gas emissions by at least 80% by 2050, there are still many investment opportunities for U.S. companies in the emerging clean energy ecosystem.
Most of the UK's heat, 70%, is still produced from natural gas. The UK's Department for Business, Energy and Industrial Strategy's (BEIS) Clean Growth Strategy, launched in 2017, set out the gaps in the movement toward a low-carbon economy. These gaps are excellent opportunities for U.S. investment:
Heat Networks and Electric Heat Pumps – To decarbonize the gas grid
Hydrogen & Bioenergy – To be used for transport, industry and to heat homes and businesses
Batteries – To rapidly decarbonize transport, including rail and EVs
Smart Energy Systems – Clean technologies such as EVs, battery storage, fuel cells and renewable energy systems
Nuclear – New materials, manufacturing processes, fuels and reactor designs
Carbon Capture Usage and Storage (CCUS): Alternatives to energy-intensive industrial fuels and low emissions
Waste – Technologies to best dispose of waste and avoid landfills
The UK government is increasing investment in the clean energy sector, the largest increase in public spending for investment in science, research and innovation in 40 years. The Clean Growth Strategy commits $3.2 billion to support low carbon innovation until 2021. The National Productivity Investment Fund will provide an additional $6 billion, with an extra $2.5 billion a year by 2020 to 2021, including funding for the Energy Systems Catapult and the Offshore Renewable Energy Catapult. This funding will go into all stages of technology development, from basic research to pre-commercial trials, in the following sectors:
Power Sector (including renewables): $827 million
Homes (including heat and energy efficiency): $238 million
Transport (including electric vehicles and batteries): $1 billion
Smart Systems (including energy storage): $343 million
Natural Resources: $128 million
Business & Industry (including CCUS): $210 million
Cross-sector Clean Tech Innovation (including entrepreneurs): $514 million
The strength of British universities, accelerators and catapults, backed by government support, clear incentives and world-renowned professional and business services, perfectly positions the UK to support U.S. companies looking to grow globally. If you have clean energy technology, you should be thinking about the UK market.
To learn more about UK clean energy opportunities, contact the UK's Department for International Trade (DIT). Cristina.Pirela@mobile.trade.gov.uk.
You can follow UK activity on their social media platforms: @tradegovuktx, @tradegovukusa, @UKinTX.