Clean Energy Businesses Showcase their Work for Lawmakers Around the Country
October 4, 2018 │ Andy Barnes, Program Manager, Clean Energy Business Network
From Wichita, Kansas to Pittsboro, North Carolina, Clean Energy Business Network members across the nation hosted tours and events during National Clean Energy Week to promote awareness of the benefits of clean energy.
National Clean Energy Week  is a series of events and communications to highlight the value and benefits of clean energy solutions for the 21st century. This week-long celebration at the end of each September is intended to generate awareness of how clean energy is driving economic growth, creating jobs, strengthening America's national security, and preserving our environment. The CEBN is proud to serve on the Steering Committee for this event, which is organized under the leadership of CRES Forum.
Thanks to the CEBN member businesses and partner organizations who worked to showcase the benefits of clean energy throughout the week!
Policymaker Site Tours
In partnership with CRES Forum, Conservatives for Clean Energy, and the Conservative Energy Network, the CEBN facilitated several site visits of clean energy businesses across the country with policymakers to promote greater understanding and support for clean energy.
3DFS (Pittsboro, NC)
Rep. Mark Walker (NC-6) visited 3DFS' headquarters in Pittsboro, NC on Sept. 19 to learn about the company's Software-Defined Electricity systems to optimize energy security and energy efficiency.
Partners: Conservatives for Clean Energy, CRES Forum
Read more about this event here.

.
Acterra Energy Services (Marion, IA)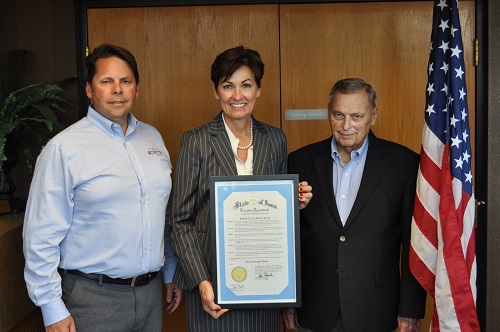 Gov. Kim Reynolds visited Acterra's headquarters on Sept. 24 to learn more about the company's work in wind energy. At the meeting, the Governor signed a proclamation formally recognizing Clean Energy Week.
Partners: Conservative Energy Network, CRES Forum
Read more about Gov. Reynolds' Clean Energy Week proclamation.

.
Green Energy Biofuel (Winnsboro, SC) 
Rep. Ralph Norman (SC-5) toured Green Energy Biofuel's plant in Winnsboro, SC on Sept. 19. Later that week, Founder and Co-Owner BioJoe Renwick spoke at a policy forum hosted by Citizens for Responsible Energy Solutions (CRES) and Palmetto Conservative Solar Coalition (PCSC) in Columbia, SC.
Partners: CRES Forum
Moseley Architects (Richmond, VA)
State Senator Glen Sturtevant (VA) toured Moseley Architects' headquarters in Richmond, VA  on Sept. 26 to learn about the firm's work in energy efficiency and LEED design.
Partners: Conservatives for Clean Energy, CRES Forum
Solar Services (Virginia Beach, VA)

Rep. Scott Taylor (VA-2) toured the company's headquarters Sept. 24 to learn about the company's work in the solar industry.
Partners: Conservatives for Clean Energy, CRES Forum
Networking Events
HyperBorean (Wichita, KS)
Patrick Hosty of HyperBorean organized a networking reception and NCEW Symposium watch party in Wichita, KS.
The group also saw recorded video greetings from CleanTech Open and the Clean Energy Business Network discussing resources available to help clean energy entrepreneurs advance their innovations.
Policy Symposium

National Clean Energy Week's keystone event was a September 26 policy symposium in Washington, DC featuring Cabinet Secretaries, Governors, and Members of Congress. CEBN President Lynn Abramson sat down with United States Senator Martin Heinrich (D-NM) to discuss the state of clean energy and the future of the sector. Lisa Jacobson, President of the Business Council for Sustainable Energy (CEBN's parent organization), led a panel discussion on the explosive growth of clean energy jobs.  Watch videos of these discussions here.
View the full list of policy symposium videos on the National Clean Energy Week YouTube channel.
Faces Behind the Facts
Also in celebration of National Clean Energy Week, the CEBN released three new Faces Behind the Facts profiles along with a compilation document of all profiles published this year. The leaders featured in these profiles represent businesses working across diverse technologies, sizes, and geographies, from the smallest family-owned businesses to the largest energy corporations in the world.
Stay tuned for next year's National Clean Energy Week, Sept. 23-27, 2019!
###
The Clean Energy Business Network (CEBN) works to advance the clean energy economy through policy, public education, and business support for small- and medium-size energy companies. Started in 2009 by The Pew Charitable Trusts, the CEBN is now a small business division of the Business Council for Sustainable Energy. The CEBN represents 3,000+ business leaders across all 50 U.S. states working with a broad range of clean energy and transportation technologies.