Small Businesses Make Their Voices Heard on Federal Energy Programs
March 13, 2019 | Lynn Abramson, President, Clean Energy Business Network
**Updated December 16, 2019**
The Clean Energy Business Network is the small business voice for the clean energy economy. CEBN enhances opportunities for clean energy businesses through policy support, market and technology information, and business development assistance.
On the policy front, CEBN helps clean energy technology and service providers stay informed about legislative and regulatory issues impacting their market opportunities, and works to amplify their voices on key issues.
As an example, CEBN has worked throughout 2019 to support strong investments in federal energy research and development programs in fiscal year 2020. On June 19, 2019, the House passed a package of funding bills that included the Energy and Water title, providing stable or increased funding for many clean energy programs. The Senate passed its own version of an Energy and Water funding bill in September and Congressional leaders from both chambers unveiled a compromise package on December 16, 2019.
The table below compares FY 2019 funding levels for federal clean energy-related programs to House, Senate, and compromise FY 2020 bills. The final FY 2020 spending package proved favorable to critical clean energy programs with many of these programs seeing increased budgets.

See Congress.gov for the latest on the FY 2020 Appropriations process.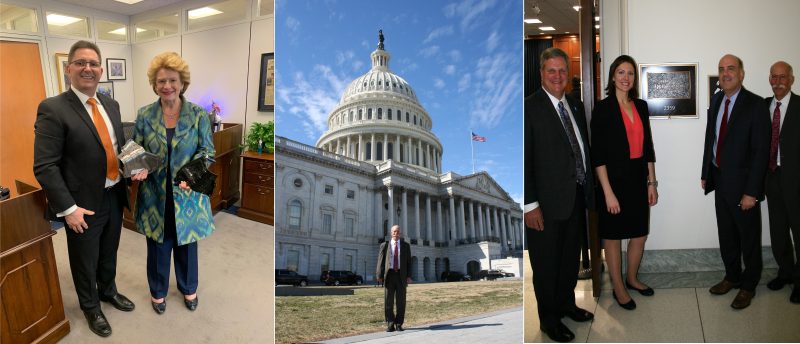 Advocacy:
CEBN brought 14 energy innovators to Washington DC March 12-13, 2019 to showcase their innovative energy technologies to federal and state lawmakers. All of these businesses have helped bring new technologies to market through partnerships with the Department of Energy (DOE), Advanced Research Projects Agency-Energy (ARPA-E), and National Laboratories. The companies represented at the event were all small businesses with offices, projects, and partners working across a collective 25+ states. These innovators met with more than 50 Congressional offices (including a number of Member-level meetings) to discuss their work, the role of DOE support, and the local benefits of their projects. Many of the staff and members the group met with expressed an appreciation for learning about these real-world examples of public-private partnerships to advance innovation.
CEBN followed up on this outreach by sending members of Congress a FY2020 Appropriations Request Letter signed by 59 clean energy businesses. CEBN members also signed onto various program-specific letters from key partners.
CEBN also facilitated discussions with energy innovators and partners across the innovative ecosystem on potential legislative and administrative reforms to make federal research and development programs more accessible to small businesses.
Education and Communications:
CEBN has helped small businesses make their voices heard on policy issues by connecting them with opportunities to share their voices in media outlets across the nation. Below are some examples of opinion pieces highlighting the benefits of federal investment in energy innovation:
CEBN has also thus far published 4 new Faces Behind the Facts profiles of clean energy business leaders, two of which featured projects supported by the Department of Energy (Cara Martin, Drew Bond).
| | |
| --- | --- |
| Drew Bond is the Co-Founder, President & CEO of PowerField Energy Inc. based out of Falls Church, VA. | Cara Martin is the CEO of Optimized Thermal Systems, Inc., which is headquartered in Beltsville, MD. |
###
The Clean Energy Business Network (CEBN) works to advance the clean energy economy through policy, public education, and business support for small- and medium-size energy companies. Started in 2009 by The Pew Charitable Trusts, the CEBN is now a small business division of the Business Council for Sustainable Energy. The CEBN represents 3,000+ business leaders across all 50 U.S. states working with a broad range of clean energy and transportation technologies.